Last Updated on February 5, 2023 by E.Pery
If you are doing a kitchen makeover, little will contribute much to the value of your kitchen's design than the massive French door refrigerator.
It is the first thing that catches the attention of guests and families when they follow the tasty aromas into this section of the house. Not only is it glamorous when closed, but it is also lovely when open.
French door refrigerators not only add luxury to your kitchen, but they also have some of the best functions and features buyers look for in refrigerators like huge storage space for fresh and frozen foods, an external ice maker with water and ice dispenser, high-end finishes, multiple air systems, and superior organization.
Although French door refrigerators cost more than the top freezer and side-by-side refrigerators, the satisfaction you get from their performance and style makes every dime worth it.
However, there are over a dozen brands and models of refrigerators on the market. It is overwhelming to keep scrolling down web pages looking for the best one for your contemporary kitchen.
This article reviews the five best French door refrigerators in 2023. It gives you a few tips on what to look for when purchasing a French-door refrigerator to help you choose the most reliable French-door refrigerator model for your kitchen.
When you buy through our links, we may earn a commission — Learn more >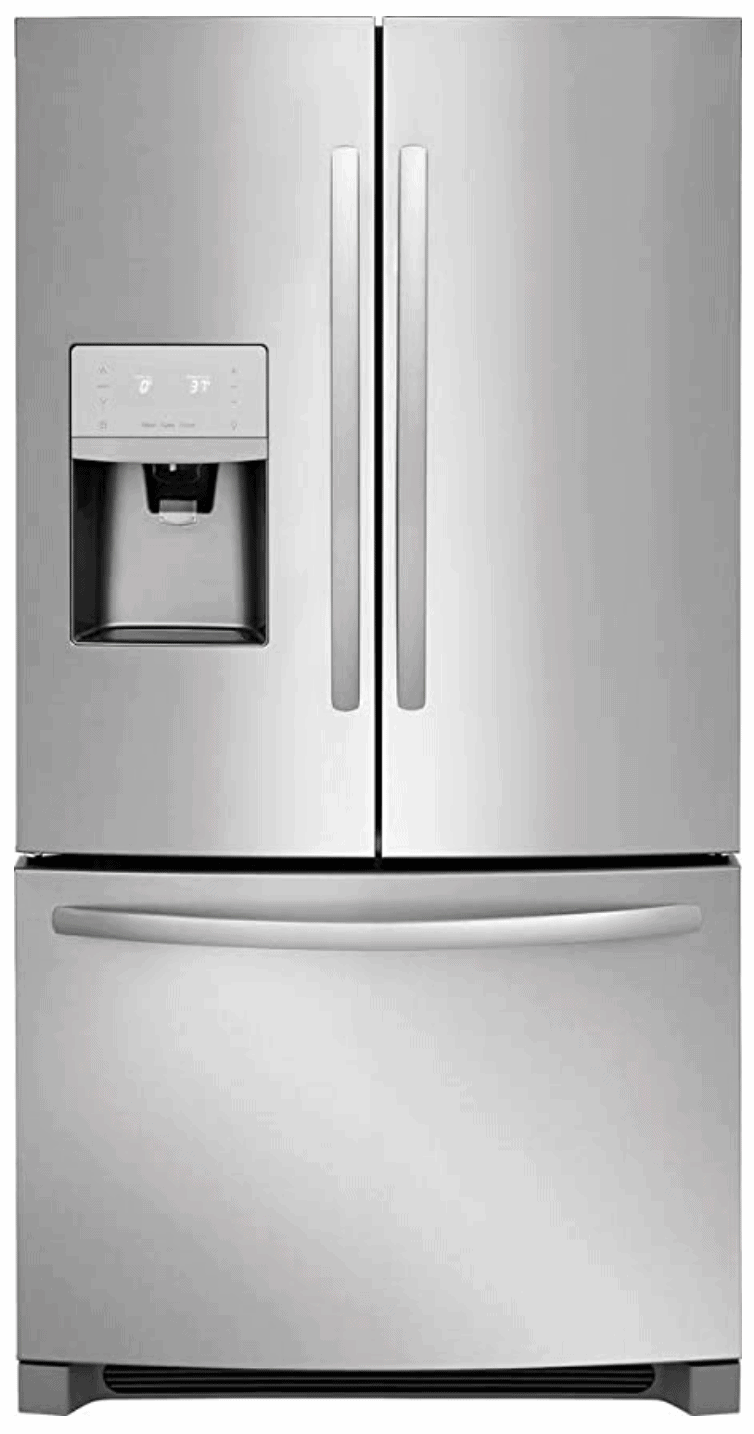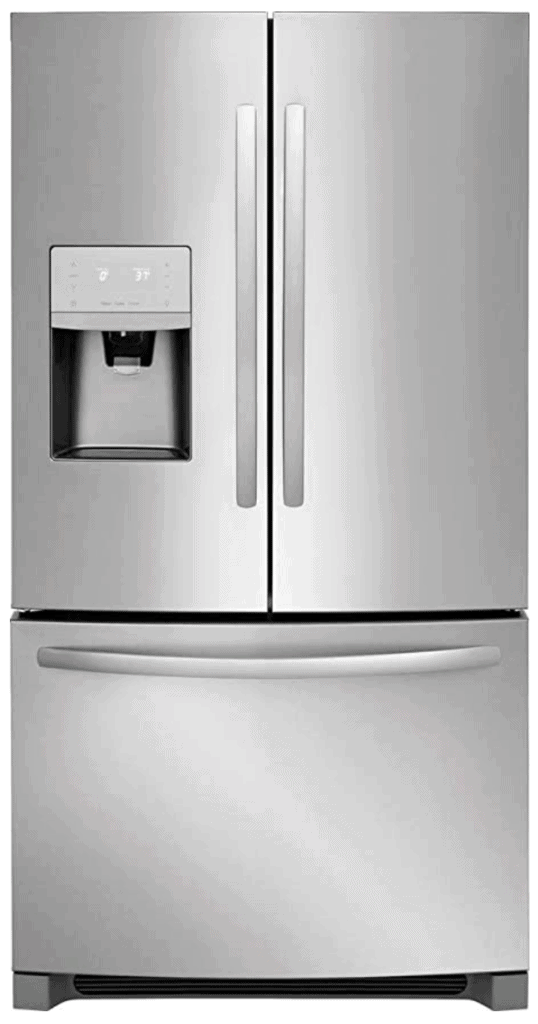 Top 5 best french door refrigerators for 2023
GE GNE27JYMFS
GE Profile PVD28BYNFS
Samsung RF23A9671SR
LG LRFDS3016S
Whirlpool WRF555SDFZ
1. GE GNE27JYMFS
If you want to replace your old refrigerator with a French door refrigerator model but are a little short on cash, you could check out the GE GNE27JYMFS French door refrigerator.
This 36-inch wide fridge is one of the best-priced French door refrigerators with over 25 cubic feet of storage space.
One of the fantastic things about this refrigerator is that the water dispenser is built within the refrigerator door without compromising on the interior door storage like other refrigerators with an ice and water dispenser.
The inbuilt ice maker uses filtered water to automatically make ice giving you a steady supply of clean ice cubes for your drinks.
It also has five adjustable spill-proof shelves with raised edges to contain spills and make cleaning quick and easy. Its full-width deli drawer enables you to safely keep your cheese and meat while the crisper drawers are humidity controlled, so your vegetables and fruits stay crisp and fresh until the next grocery shopping.
Other features include an automatic defrost system that prevents ice build-up in your freezer, bright LED lighting, and a door alarm. The door alarm feature saves you energy and prolongs the lifespan of your appliance by alerting you when the door is left often for too long.
It also has upfront electronic controls and fingerprint-resistant stainless steel and is energy star certified therefore saving you money on electricity costs.
Pros
A unique in-door water dispenser frees up the door for storage
Large storage capacity, 27 cu. ft.
Full-width deli drawer
Adjustable spill-proof shelving
Humidity-controlled crisper drawers for optimal storage of fresh produce
5 Glass Shelves,
Automatic Defrost
Energy Star Certified
Upfront Electronic Controls,
Fingerprint-Proof Stainless Steel
Cons
Not suitable for people who regularly use the freezer
---
2. GE Profile PVD28BYNFS
If you need to get a French-door refrigerator with a separate drawer, then you should check out the GE Profile PVD28BYNFS. The different drawer makes this French door refrigerator model quite impressive, especially for deli lovers.
You can also dedicate this drawer to regular foods like milk and snacks because it allows you to easily and quickly access the food without opening the main refrigerator door.
There are GE models with this drawer within the refrigerator section, but you have to open both doors to access it, making the GE Profile PVD28BYNFS the better option for you.
Besides the flexibility this refrigerator offers you, it has several other exciting features, such as the door-in-door design that allows you to reach out for your favorite foods in the swiveling door without opening the entire fridge.
So you can decide to dedicate the extra drawer for your delis like meat, sandwiches, sliced cheeses, and salads, and keep your snacks in the door in the door section.
Another great feature is its ice and water dispenser, an autofill option that senses the glass's capacity and fills it accordingly. The interior has an LED light wall that brightly illuminates your groceries, so you don't strain your eyes when reaching out for things at night.
Its soft-closing door and drawers also prevent wear and tear and your hands from straining when closing it.
Standing at 70 inches high and 36 inches wide, this 28 cubic foot French refrigerator offers you enough storage for your large family and a spacious chest freezer to store extra frozen foods. However, it is not a good choice if you have a small kitchen area.
Pros
Large storage capacity
Ice and water dispenser with an autofill
Swiveling door bin
Separate drawer
Cons
Expensive
It takes up a lot of space
---
3. Samsung RF23A9671SR
The Samsung RF23A9671SR is a counter-depth French door refrigerator that measures 36 inches wide and has a storage capacity of 22.8 cubic feet.
Its sleek and modern design features four handless doors, four full-width glass shelves, an ice maker, and an internal water dispenser.
Some of the aspects that make this refrigerator model one of the best French door refrigerators in May, 2023 include fridge/freezer convertibility which allows you to set the two lower compartments as either refrigerator or freezer areas depending on your refrigeration needs.
It also has WiFi compatibility that allows you to monitor the fridge's contents from your smartphone by sending and receiving notifications on entry and expiry dates.
Its door-in-door design will enable you to keep your snacks and frequently used foods like milk and condiments in a place you can easily access without opening the main refrigerator doors.
This counter-depth French refrigerator can fit into any kitchen design without sticking out beyond your counter depth like standard refrigerators.
Despite its counter depth, this refrigerator offers you adequate storage space and flexibility through adjustable shelves and drawers that help you customize your fridge when you need to store large items such as your gigantic Thanksgiving turkeys and wine bottles.
What is more? It has automatic defrost abilities and is energy star certified. Both of these features save on operation and energy costs.
Pros
Stainless steel finish
Convertible fridge and freezer compartments for maximum flexibility
4-door handle-less design
Counter-depth design that frees up the kitchen space
Door-in-door design that offers quick access to frequently used items
Convenient, flexible shelves and drawers
Energy star certified
Automatic defrost
Cons
---
4. LG LRFDS3016S
This is the best maximum capacity French door refrigerator in May, 2023, with 30 cubic feet of storage space that gives you plenty of room for your fresh groceries and frozen foods.
If your kitchen has much real estate, you would love this model because it sticks out into your kitchen by about a foot past the counters and cabinets.
The considerable depth of 36 5/8 inches offers you plenty of weekly storage for your family and leaves enough room to add groceries for a party over the weekend.
This refrigerator also boasts many other features like a craft ice maker that makes spherical ice cubes that melt slowly and are perfect for those long drinks you have with your friends on Saturday afternoons.
You will find the ice maker drawer in the freezer quite handy when you have a party and need a large quantity of ice.
The water dispenser also has a measured fill feature that dispenses water in measured ounces of between 2 to 32 ounces. Its stainless steel finish is fingerprint-proof, easy to clean, and has a door-in-door design that is easy to access.
Its WiFi compatibility allows you to monitor the fridge from your smartphone. You can, for example, instruct your refrigerator to make ice when you are hosting a party or get alerts on your phone when the fridge is left open.
This refrigerator is also Google Assistant, and Alexa enabled and would complement your smart home quite well.
Pros
Door in Door design
Energy Star Certified
Craft Ice Maker
Smart Diagnosis
Works with Google Assistant/Amazon Alexa, and is WiFiWiFi Enabled
Cons
---
5. Whirlpool WRF555SDFZ
Whirlpool WRF555SDFZ is the best overall French door refrigerator, offering you a sleek design and providing unique features and functionality.
It has a generous amount of storage, a factory-installed ice maker, water and ice dispenser, and a stainless steel finish that gives your kitchen a high-end look.
Although this model doesn't have smart features, you will appreciate its external temperature controls and its dispenser control lock that disables the ice and water dispenser without altering other parts of the control panel.
This unit also has adjustable drawers and door bins in the refrigerator section and two sliding bins in the freezer compartment, all of which make storage quite flexible to your needs and large enough to fit your leftover or meal preps.
Pros
Factory-installed icemaker
Spacious storage space
Water dispenser
Cons
It does not have any smart features
The doors and shelves are a little more brittle compared to other models.
---
5 benefits of getting a french door refrigerator
Make Your Kitchen Seem Bigger
Arranged for Convenience
Generous and Flexible Storage
Conserve Energy
Stylish Design
1. Make Your Kitchen Seem Bigger
Most French door refrigerators are massive appliances that look even bigger when they are open. Ironically, they give you much walking space because their double-door design leaves more room to move about when the doors are open.
This feature is beneficial when you have a party, and your kitchen has a swarm of children running around. Getting a snack for one child may not cause an accident for other children running around.
Another advantage of having the double-door design is that the doors don't feel heavy when you swing them open, especially when loaded with soda bottles and cartons of milk.
Additionally, the doors offer you a lot of extra storage space because they can handle a larger volume of food compared to other types of refrigerators.
2. Arranged for Convenience
French door refrigerators have a convenient design where the fridge is on top of the freezer, enabling you to have everything in the refrigerator at eye level and reachable height.
The freezer is set as a pull-out drawer at the bottom of the refrigerator for keeping all food items that you don't frequently use.
The layout of the refrigerator further saves you the pain of bending down to get things out of the crisper drawers.
It also helps you not forget about something you bought a long time ago because the crisper drawers are high enough for you to see and reach out for stored items.
3. Generous and Flexible Storage
Have you ever tried fitting a food item that won't fit in the available space because the spaces between the shelves are too small? Nothing could be more frustrating than trying to fit a Thanksgiving Turkey in your fridge a few days before the event.
Recommended reading: How Long to Defrost Turkey?
It is also annoying to try fitting a large leftover pizza or a birthday cake that won't fit because it is too large.
The French door refrigerator not only gives you full-width adjustable shelves that you can rearrange to fit your storage needs, but the deli drawers are also adjustable.
This feature gives you convenient storage options, especially when you have a party or family gathering and need to store tall, large, or bulky items.
Moreover, most French Door freezers have multiple levels demarcated by sliding drawers and baskets and impressive depths that allow you to keep items you do not frequently use or need at the moment on the lower levels and frequently used things like bacon on the upper levels.
4. Conserve Energy
Many French door refrigerators have a door-in-door design, while others have a separate drawer. These features help you reduce your environmental footprint by conserving energy and cutting down your cost of power.
Every time you open the fridge, you let in a wave of warm air that not only increases the chances of food spoiling but also reduces the optimal performance of your fridge and its overall lifespan.
You reduce the cold air rushing in by opening only a small refrigerator section, unlike other refrigerator models like the top and bottom freezers.
Having a model with a separate drawer further helps you to save on energy as you can store frequently used foods such as drawers and snacks in the drawer without opening the whole refrigerator.
5. Stylish Design
The French door refrigerator has a stylish design that gives your kitchen a high-end look. Some French door fridges also have a special lining on their crisper drawers which adjusts automatically to keep your food fresher for a longer time.
Other features that add to the refrigerator's sleek design include the external digital controls. This door alarm goes off when the fridge is left open or when the door shuts incorrectly.
Bright LED lighting in the interior and door TV allows you to follow instructional videos. At the same time, you try out new dishes and large adjustable door bins that give you storage flexibility.
---
What to consider when choosing the best french door refrigerator
French door refrigerators and Bottom Freezer fridges often experience mechanical failures due to the location of the freezer. When a freezer is located at the bottom of the unit, it works extra hard to supply the upper section with ice.
This makes them more prone to failure than other refrigerators. These failures include a leaking ice maker and irritating noises, a malfunctioning crushed ice maker, poor temperature controls, and cold airflow between the lower and upper compartments.
Recommended reading: What brand of refrigerator has the least problems?
The bitter truth is that the cost of repairing a French door refrigerator is 26 percent higher than other types of refrigerators, such as side-by-side fridges.
Recommended reading: How Much Does A Refrigerator Cost? [Complete Guide]
French door refrigerators are more expensive than other refrigerators like the top freezer freezers. So when getting a French door, you want to get one that not only has impressive features but is also reliable.
Recommended reading: What is the most reliable brand of french door refrigerator?
When comparing refrigerators, other features that you should consider include their configurations, capacities, available finishes, and energy-efficient levels.
Suppose you want to compliment your smart home with a refrigerator that offers smart technological features. In that case, you could also try to look for French door fridge models with WiFiWiFi, Smart Home, and Alexa compatibility.
Finishes
One of the things that make French door refrigerators stunning is the stainless steel finish. This type of finishing also gives a facelift to your kitchen by making it look more modern.
French door refrigerators also come with the black and matte black stainless steel finish variant, thereby giving you an option to choose a style that best suits your needs.
However, models with a stainless steel finish are more expensive, so if you need to get a French door refrigerator while on a budget, it would be prudent to get one with other types of finishes such as a slate, white or black finish.
Recommended reading: How To Clean Stainless Steel Refrigerator (10 Actionable Tips)
Size and Capacity
Although French door refrigerators are larger than other types of fridges, they vary in size. Considering the size of your kitchen space is very important when buying a French door refrigerator because only a few have a counter-depth design.
Recommended reading: Refrigerator Buying Guide [8 simple steps]
So you may purchase a fridge and end up returning it because its standard width is too large for your kitchen space.
It is also good to consider the capacity of the fridge you want to buy. It would be best if you got a refrigerator that perfectly fits your storage needs.
If you have a small family of two or three, a refrigerator with 30 cubic feet of storage may be more than you need unless you have a plan to expand your family soon.
You may keep food and later trash it because your family cannot consume all the stored food. The fridge may end up experiencing performance issues because it will be working too hard to keep the almost empty refrigerator cold.
You can benefit more by getting a refrigerator between 19- to 22-cubic-foot refrigerators because it often offers adequate storage for families with average shopping habits.
If you have a large family, you should consider getting a refrigerator with a capacity of over 24 cubic foot storage. Getting a fridge with inadequate storage could lead to overstuffing.
Overstuffing your refrigerator not only reduces your fridge's functionality which causes food spoilage and mechanical breakdown but also reduces the lifespan of the unit.
You can estimate the ideal fridge capacity for your family using the general rule of thumb; 4-6 cubic feet of refrigerator space per adult in the family.
Energy Rating
When purchasing a refrigerator, you look for one that suits your needs at the best possible price. However, if the model you opt to go for is not energy efficient, you might end up spending more than you need to on electricity costs.
So before you purchase a fridge, you need to know its energy efficiency facts because it saves much on energy bills.
The energy rating of a fridge discloses its approximate operation cost through a pamphlet or a sticker. Comparing energy ratings for French door refrigerators under the same price range allows you to get the most value for your money.
Getting an energy star-certified refrigerator will save you about 33 percent on energy bill costs per year and reduce your environmental footprint.
Additional Features
Once you have found a model that fits your dream fridge in terms of its finish, energy rating, and storage capacity, you can further narrow down your options by comparing the features of the French door refrigerators you have chosen.
Some of these features include:
Ice and water dispensers
Many French door refrigerator models have water and ice dispensers. However, not all of them are on the exterior of the fridge.
Refrigerators with exterior ice and water dispensers offered you easy access to cold water and cubed or crushed ice. It also prevents you from opening the whole refrigerator door.
Water Filters
The cool water from the fridge that you love so much travels over a long distance before it gets to you. Sometimes it collects impurities that could harm your body if you do not have it filtered.
Changing water filters regularly removes impurities and makes the water and ice safe to drink or put in drinks.
Programmable Controls
Every refrigerator has a system of controls that monitors and optimizes its pressure and temperature. When the temperature or pressure rises beyond normal levels, the programable controls automatically adjust, minimizing your level of energy consumption.
This feature also allows you to lock the ice and water dispenser and check the filter's status.
Fingerprint-resistant finishes
This feature is a must-have if you have a family of several playful kids. It is impossible to try and keep the fridge clean when you have kids.
Recommended reading: How to Clean a Refrigerator?
However, getting a refrigerator that has a fingerprint stainless steel not only gives it sleep water.
---
Is a french door refrigerator right for me?
Best for:
Buyers who like refrigerated content at eye level
Buyers who have trendy kitchen designs
Consumers with smart homes are interested in fridges they can monitor from their phones.
Not recommended for:
Buyers on a budget because French door refrigerators are generally expensive.
Consumers who frequently use the freezer because they have to bend over to get stored items.
Consumers who need organization in the freezer for their frozen foods.
French door refrigerators are among the most trending refrigerator types in the market today. They come in a variety of designs, features, and finishes.
These features include wall-to-wall storage, ideal for people who like doing their groceries in large quantities. Many French door refrigerators are energy star certified, making them about 20% more energy efficient than other standard refrigerators.
If you frequently use your freezer, then the French door refrigerator may not be the best model for you because reaching out for food items will require you to bend over. Unlike the top freezer refrigerator, the French door fridge has a drawer that pulls outward.
That means that unless the freezer has additional shelves, you will have to pile your frozen foods on top of each other. This form of arrangement in the freezer can make you forget about food items wrapped up in opaque materials.
French door refrigerators also tend to have more repair needs compared to top freezer refrigerators because the freezer is located at the bottom instead of the door.
So if you want to get a fridge that experiences fewer repair needs, you will have to forgo the glamour of the French door refrigerator and settle for a top freezer or a side-by-side refrigerator.
---
How to arrange food in a french-door refrigerator? [5 simple tips]
You can use the guideline below to organize food items in your French door refrigerator.
Use the door storage for non-dairy beverages
Store condiments on the doors
Keep prepped meals and leftovers on the top shelf
Keep deli in a deli drawer
Keep fruits and vegetables in separate crisper drawers
Recommended reading: How To Organize Refrigerator [In 11 Simple steps]
1. Use the door storage for non-dairy beverages
Non-dairy beverages include juices, soda, and bottled water. The doors are often the warmest parts of the fridge. Keeping your non-dairy drinks in the door not only saves up space for your prepped meals without the fear that the warm temperature will spoil the food.
2. Store condiments on the doors
Most people keep their milk in the refrigerator door because the door storage is big enough to hold their milk cans. But being the warmest part of the refrigerator, this zone often makes milk go bad quickly.
Instead, it is advisable to keep the milk and other dairy products on the shelves towards the back and condiments on the door storage because they have preservatives and can stay fresh for a long time.
3. Keep prepped meals and leftovers on the top shelf
This makes them visible and more accessible within a few seconds to reduce the time the door is left open. It also prevents food waste because they are eaten before they spoil.
4. Keep deli in a deli drawer
It is best to keep your deli in a deli drawer where you can keep the temperature lower than other sections of the fridge to keep the meat fresh for a long time.
5. Keep fruits and vegetables in separate crisper drawers
Keep your fruits and vegetables in separate humidity-controlled drawers to keep them fresh and crisp for longer. The fruits and vegetables require a different environment from the others, and so you need to control the humidity in each drawer to prevent premature ripening and spoilage.
---
FAQs
What Is a French Door Refrigerator?
A French door refrigerator is a type of fridge with three or more doors divided into two sections. The refrigerator section is located at the top of the refrigerator, and it is divided into two. Each section has a door that opens outward from the center. Below the refrigerator compartment is a wide that you open by pulling out the drawer.
If you like having cold drinks or hydrating several times a day, you might want to get a fridge model with an ice maker and a water dispenser. If the ice maker and water dispensers are not installed on the door, you can check the ice maker in the freezer drawer. The door-in-door feature of these refrigerators also places food in quick-access areas.
Which French door refrigerator brand is most reliable?
Reliable is a relative word and can mean a lot of things to a lot of people. However, the most reliable French door refrigerator brand in May, 2023 is Whirlpool because it has a little of everything and allows you to enjoy numerous great features without many repair needs.
Many people love this brand because it manufactures the most durable and reliable refrigerators. Refrigerators from Whirlpool hardly experience the need for repairs, often showcase outstanding performance, and have a longer lifespan.
---
Best french door refrigerator deals for May, 2023
---
All other trademarks are property of their respective owners: Android, iOS, and Samsung.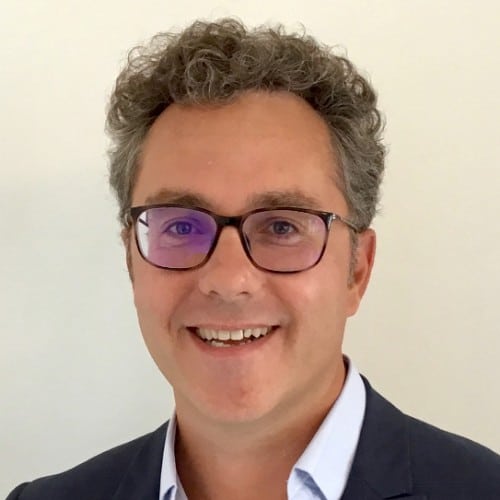 E Pery is the founder of refrigerator.deals and a webmaster. He runs his own websites and loves… refrigerators! Convinced that buying and maintaining a refrigerator is not easy, he decided to create refrigerator.deals, in order to help people make the right choices.
Refrigerator.deals is a participant in the Amazon Services LLC Associates Program, an affiliate advertising program designed to provide a means for sites to earn advertising fees by advertising and linking to Amazon.com. Last update on 2023-05-07 / Affiliate links / Images from Amazon Product Advertising API