Last Updated on February 5, 2023 by E.Pery
The top freezer and French Door refrigerators often steal the show when put next to a side-by-side fridge. Not only do these modern refrigerators have a greater capacity, but some customers also find them more stylish and more fitting for their contemporary homes compared to other refrigerator models.
However, there are numerous reasons why you need to pay more attention to the side-by-side refrigerator right next to the French door on the side. Firstly, a side-by-side refrigerator is about 26% more affordable than an average French door fridge.
Secondly, side-by-side refrigerators experience less need for repairs than French door refrigerators, which often have issues with crushed ice makers. The bottom freezers are just as bad. They often fail to maintain an even temperature throughout the unit or operate silently like the side-by-side fridge.
So, if you aim to get a relatively affordable refrigerator, durable, has less need for repairs, and will give your kitchen the aesthetic value that you pine for, then the side-by-side refrigerator is the best option for you. This guide is created to assist you in getting the best side-by-side refrigerator for your home.
When you buy through our links, we may earn a commission — Learn more >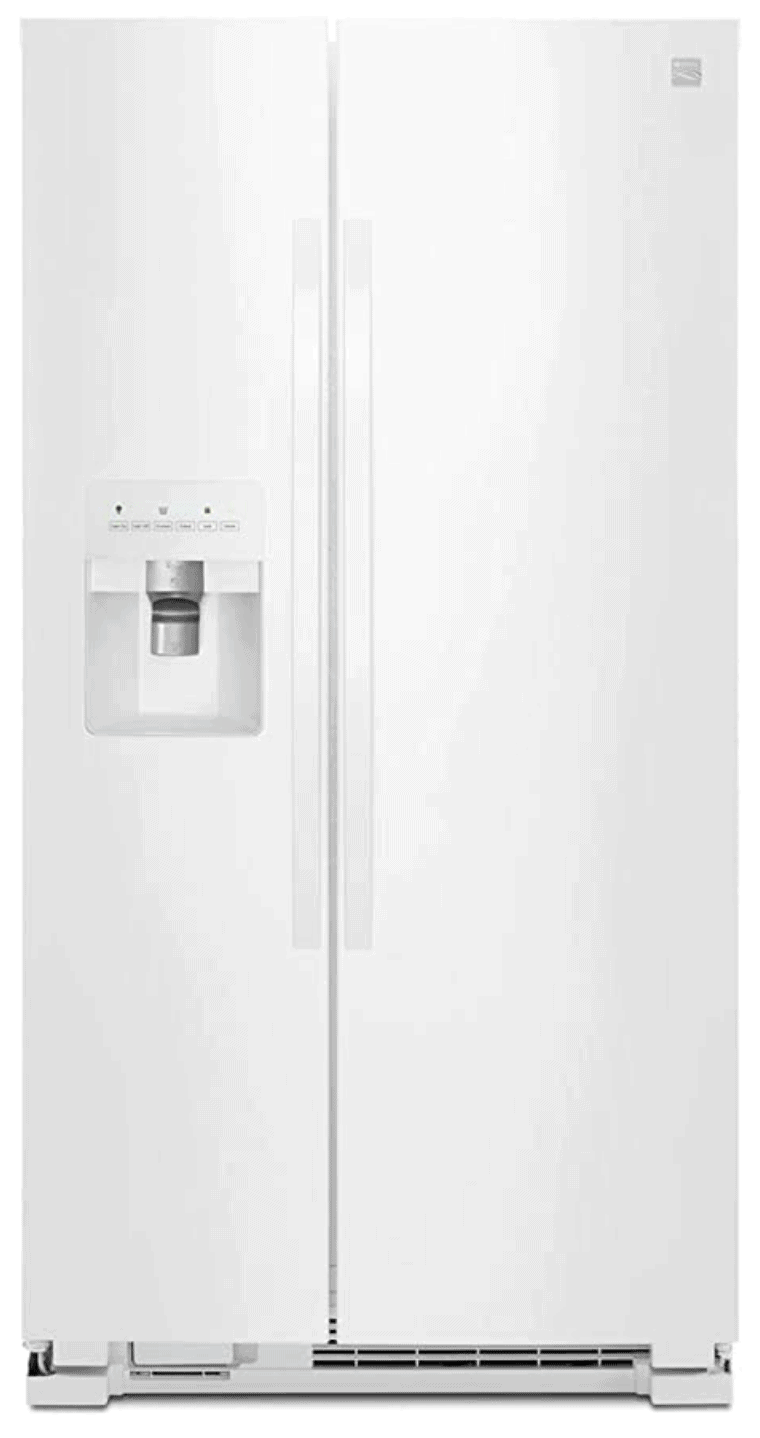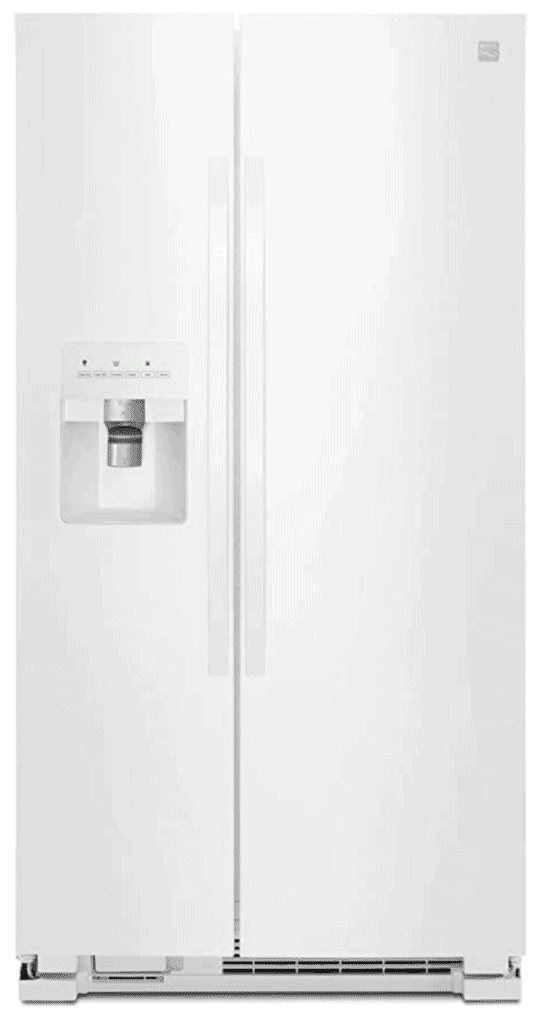 5 best side-by-side refrigerators for 2023
GE GZS22DGJBB
Samsung RS25J500DSR
LG Electronics LSXS26366D
Whirlpool WRS321SDHZ 21 Cu Ft
LG LRSES2706V
1. GE GZS22DGJBB Side-by-Side Refrigerator
The GE GZS22DGJBB side-by-side refrigerator is among the best counter-depth refrigerators. It comes in three colors, grey, black and white, giving you a choice to choose a color that best blends with your countertops.
The refrigerator is manufactured by one of the most reliable brands in the industry. It also has excellent features that complement its counter-depth size and modern elements.
Best Features
Humidity-Controlled Drawers
This feature allows you to organize your storage in a way that keeps your fruits and vegetables fresher for longer—setting the humidity on high cuts off airflow to the drawers. This allows the fruits to stay fresh as they sit in the humidity while the gases produce ripen them.
Recommended reading: How To Organize Refrigerator [In 11 Simple steps]
Setting the humidity on the lower end opens up a small vent in the humidity drawers, allowing the gases and moisture to escape from the crispers, thus reducing humidity in the drawers.
It is necessary to control the temperature of the fruit and vegetable crispers. Too much humidity in the crispers could lead to rot, whereas too much moisture loss could make the vegetables dry out too quickly. Striking a balance between the two helps keep the fruits and veggies fresh for as long as possible.
Adequate Storage Space
This refrigerator also boasts gallon-sized adjustable door bins right above the dispenser unit. They are 15-1/2" wide towards the top of the fridge, allowing you to fit some of the bulky food items that won't fit on the top 2 shelves of your side-by-side fridge. The bins are pretty deep, so it is unlikely for small things to fall.
It also has two wide shelves made of glass that accommodate a wide range of frozen food in the freezer and supports several pounds of meat and vegetables in the refrigerator.
The glass shelves are adjustable, thereby giving you additional storage space to fit large containers or a giant turkey during the Thanksgiving season.
Recommended reading: How Long to Defrost Turkey?
How Long Can A Thawed Turkey Stay In The Fridge?
This refrigerator also has five-door bins in the freezer that you could use to store leftovers, foods you have already prepared, vegetables and meat.
The door is the warmest part of the freezer section, so it's ideal for storing whole grains, butter, bread items, and nuts without the fear of food damage from freezer mold or burn.
Recommended reading: How To Organize Refrigerator [In 11 Simple steps]
This model also has a dairy hatch box where you can keep your milk. However, some GE models come with a deli box or twin evaporator and turbo cooling. Selecting this feature activates the compressor and turns on the fans to run at high speed.
Then Turbo cooling brings down the refrigerator's temperature when it is frequently opened, kept open for extended periods, or stored hot items in the fridge.
Recommended reading: How Long Does It Take A Fridge To Get Cold? [6 Simple Tips]
Pros
2-gallon door bins
Humidity controlled crispers
Dairy box
Wide adjustable shelving
Accessible icebox
Two glass refrigerator shelves
Five freezer door bins
It's a counter-depth model
Cons
It only has top lighting; the lower levels are poorly lit.
Freezer baskets are fragile
Has no deli drawers on the standard model
It does not have fingerprint resistant stainless steel finish
---
2. Samsung RS25J500DSR
If you are looking for a refrigerator that is reliable, durable, and at the same time affordable, the Samsung RS25J500DSR should be on top of your list. When the value for money is considered, this model is the best side-by-side refrigerator of 2023.
Not only does it have a generous storage capacity that will adequately cater to the needs of your family, but it also comes with an ice and water dispenser, adjustable shelves, power freeze, cool functionality, and energy-efficient LED lighting. Let's review some of the features that make it one of the best side-by-side refrigerators.
Best Features
Large Storage Capacity
The Samsung RS25J500DSR side-by-side refrigerator measures 38" wide, 70" high, and 36" deep. It has a capacity of 24.5 cubic feet giving you ample space to store more vegetables and snacks.
This storage space is quite generous for a refrigerator that costs about $1000. So if you have a large family, the Samsung RS25J500DSR side-by-side fridge could give you much value for your money.
The refrigerator zone offers about 15.7 cu. ft. of space, while the freezer zone gives you 8.8 cu ft. One of the most amazing things about this refrigerator is that the freezer is larger than other side-by-side refrigerators.
So if shopping for groceries is not something you like or have time for, this refrigerator offers you ample storage for your frozen foods.
It also has four bins that can store up to 25 bags of groceries and two humidity-controlled crispers to keep them fresher for longer.
Given its size, this refrigerator is not counter-depth. However, its generous storage space gives you consolation for losing out on the sleek appearance of a refrigerator that stands flush with kitchen counters.
Spill-Proof Glass Shelves
This refrigerator also has adjustable shelves, which are made of spill-proof tempered glass. In case of spills, the tempered glass retains up to 12 ounces of liquid which is easily and quickly cleaned without messing or spoiling other food items.
Power Freeze and Cool Function
The Samsung RS25J500DSR power freeze and cool function quickly freezes your defrosting foods and makes your lukewarm drinks cold. It also has a water filter and a built-in ice maker and dispenser.
LED Lighting
This refrigerator also has energy-saving LED lighting that provides you with enough brightness to see things in the interior. It also has space-sufficient lighting panels that prevent the creation of excessive heat, which increases the cost of electricity and can cause food spoilage.
Recommended reading: How Many Watts Does A Refrigerator Use?
The only downside of this refrigerator is that it emits no light on the water dispenser, and hence to use it, you will need to put on the lights at night.
Warranty
This appliance gives you a one-year warranty on labor and parts and two-year warranty coverage on the Ice makers. This warranty also covers maker parts and labor costs.
You also get to enjoy a five-year labor warranty on the sealed system, up to ten years warranty for parts, and five years for the labor cost for repairing or replacing digital inverter compressors.
Pros
Sleek modern design with a stainless steel finish
Operates with very minimal buzzing sound or noise
Inbuilt ice maker and dispenser as well as water filtration
Has generous storage space
Bright LED lighting
Power freeze and cool function.
Spill-proof glass shelves
Cons
Not counter depth.
Not energy star certified.
No light by water for nighttime.
Has only one lamp for both sides.
---
3. LG Electronics LSXS26366D
LG LSXS26366S Door-in-Door 26.0 Cu. Ft. Side-by-Side Refrigerator is one of the best side-by-side refrigerators. Not only does this refrigerator boast of the J.D. Power award for high customer satisfaction, but it also has various modern technology features that make it a moderate price worth it.
This smart fridge is among the few refrigerators with door-in-door developments, a space-saving ice maker, smart home compatibility, and an instant-view glass panel. But this is not the only reason customers love this product. Let us review the appliance in depth.
Best Features
Door-in-door technology
This standard depth refrigerator comes with door indoor compartments that give you extra storage space and allow you to access your fresh foodstuffs without opening the refrigerator's main door.
It also has a cold saver panel that helps you keep your food fresher for longer by giving you easy access to essentials like milk without having to open the entire refrigerator.
Keeping food items about to expire in the door-in-door area places them where you can see them. This prevents food loss and wastage.
Smart Cooling and Multi-Air Flow System
This side-by-side fridge also has smart cooling and a multi-air flow system that helps maintain the refrigerator at optimum temperature. It also has humidity-controlled crispers that keep your vegetables and fruits fresher for longer.
LED Lighting
It has energy-efficient LED- lighting that lights the fridge's interior without raising the temperatures within the unit.
Storage Space
LG LSXS26366S is over 70" high, 36" wide and 36 5/16" deep. It has a storage capacity of 26.1 cu. ft. Although it is not counter-depth, you will appreciate the extra storage space that it provides, especially if you have a large family.
The refrigerator compartment is 16.9 cu ft, while the freezer compartment takes up about 9.2 cu. ft. of space. This storage space includes the distance between the shelf space between the spill-safe glass shelving, the gallon door storage, deli meat drawers, and the dairy center.
Moreover, the adjustable glass shelves allow you to create enough space for fitting more oversized items such as a turkey when the need arises.
One of the most disappointing features in some refrigeration units is an ice maker that takes up half of the freezer space. But this is not the case with the LG LSXS26366S side-by-side fridge.
It has a compact space plus ice system that dispenses about 4.1 pounds of ice a day while leaving you extra shelving space for your meat and veggies in the freezer zone. What's more, the refrigerator's tall door dispenser allows you to use a variety of containers, including pitchers, cups, and pint glasses.
Reasonable Price
Finding a reliable side-by-side refrigerator priced under $1000 is quite challenging. LG LSXS26366S is offered at an affordable price because it allows you to enjoy high performance, modern features, lengthy warranties, and less cost on the repairs.
Recommended reading: How Much Does A Refrigerator Cost? [Complete Guide]
Decent Warranty
LG's decent warranty makes the price of the refrigerator worth every dime you spend on it. It has a 6-10 linear compressor parts warranty, a five-year sealed system and compressor warranty, and a one-year warranty on parts and labor.
Moreover, if the refrigerator experiences an issue, you do not need to spend vast amounts of money on maintenance specialists for diagnosis. The LG SmartDiagnosis quickly troubleshoots the problem and fixes it as soon as possible. If you need any assistance, the company also offers good customer care services.
This refrigerator also has fewer running costs compared to other refrigerators. Getting a large side-by-side fridge will cost you more to run it. However, the LG LSXS26366S is estimated to cost about $86 per year on electricity. Although this is not very high, an energy star-certified refrigerator could cost you even less.
Pros
Door-in-door technology offers you an instaview.
Decent warranty.
Twenty-six cubic feet of storage capacity includes a door-in-door compartment, gallon door storage, deli meat drawers, and a dairy center.
Stainless steel finish.
Digital temperature controls.
The external ice and water dispenser.
Operates Quietly.
Cons
It's not energy star certified.
It's not counter-depth.
It's more expensive than other models.
---
4. Whirlpool WRS321SDHZ 21 cu ft Side-by-Side Refrigerator
Suppose you need a sleek and stylish refrigerator for your kitchen, but your budget is not enough for a French-door refrigerator. In that case, the Whirlpool WRS321SDHZ side-by-side refrigerators give you the elegance you need while still allowing you to keep to your budget.
Best Features
Adequate Space
This refrigerator has 21.4 cu ft of interior space and measures 65.63 x 33 x 31.63 inches. It is a build that will easily fit into your home, whether you have an apartment-sized home or a bigger house.
Modern Features
The refrigerator also offers you essential features such as an automatic icemaker, an in-door can caddy, and an ice and water dispenser. It also has adjustable glass shelves, door bins, and a deli drawer that enables you to properly store meat products and prevent them from dripping juices that may contaminate other foods.
One feature that makes the whirlpool fridge out from the rest is the LED lights that dispense light at night. These lights enable you to quickly grab a snack or a bottle of water in the middle of the night without putting on your kitchen lights. All these features come at a price that you can afford.
You may have trouble finding space for all of your frozen goods, as the freezer is limited.
Pros
Deli drawer that enables you to store meat products properly
LED lights that dispense light at night.
Indoor can caddy
Affordable Price
It is energy star certified.
Cons
The freezer is smaller than other models, and the space may not be adequate for your frozen food.
It does not have any smart features.
---
5. LG LRSES2706V side-by-side refrigerator
No deals found. Come back later!
If you are not limited by your budget and need a high-end side-by-side refrigerator, the LG LRSES2706V is one of the best side-by-side refrigerators with smart features. These smart features include a door-in-door and instaview technology, WiFi and smart home compatibility, and an automatic ice maker.
Best Features
Door-in-door Technology
The refrigerator door indoor technology allows you to easily access food and drinks without opening the main fridge door. This feature helps in keeping your food fresh and your refrigerator working efficiently. It also gives your kitchen an elegant and modern look.
Multi-Air System
The multi-air system includes several vents in the fridge that direct cold air to strategic cooling locations. For example, cool air can be directed to the warmer parts of refrigerators, such as the door, to keep it cooler.
This system ensures that the fridge maintains a low temperature even when hot things are stored in the fridge, or the door is left open for extended periods.
Design
One feature that makes this model one of the most expensive side-by-side refrigerators of 2023 is its Platinum silver finish. This fingerprint-resistant stainless steel exterior and door-in-door features make the fridge look stunning.
Recommended reading: How To Clean Stainless Steel Refrigerator (10 Actionable Tips)
Impressive Storage Space
The LG LSXS26366S has impressive storage space that allows you to organize your foodstuff safely. It has gallon-door storage, deli meat drawers, and a dairy center for your dairy products.
The door-in-door feature allows you to access snacks, drinks, and other regular foods. It also has adjustable Spill-proof glass shelving to make the most of your space and prevent spills from contaminating other foodstuffs.
Pros
InstaView panel and Door-in-door
Platinum silver finish
Multi-air system that extends the freshness time for food.
Smart home and wifi enabled
Spill-proof adjustable shelves
Auto ice maker
Humidity controlled crispers
Cons
---
9 things to look at when buying a side-by-side refrigerator
If you want to replace your dying fridge with a side-by-side refrigerator, here are a few things you should keep in mind before you purchase a new one.
Food preservation
Your refrigerator cutout
Your preferred refrigerator style
Through-door water and ice dispensers
Fit and finish
Efficiency
Humidity-controlled drawers
Deli drawers
Spill-proof Shelves
1. Food Preservation
When shopping for a fridge, you need to look for one with a temperature range that will keep your food fresh for longer. Ask the sales associates or read reviews online on your preferred fridge cooling abilities, such as humidity and temperature data in the fridge and freezer.
Recommended reading: Refrigerator Not Cooling?
2. Your Refrigerator Cutout
Side-by-side refrigerators come in varied sizes. So before you purchase one, measure the fridge area in your kitchen and get a fridge that would fit in your space.
As you take the depth measurement of the fridge, include the depth of the fridge door to prevent obstructions when opening and closing it.
Recommended reading: Refrigerator sizes
3. Your Preferred Refrigerator Style
There are different refrigerators; French doors refrigerators, bottom freezers, top freezers, and side-by-sides. Each of them has advantages and disadvantages that may affect your refrigeration needs.
As the name suggests, freezers in top freezer refrigerators are located on the top part of the refrigerator while bottom freezers are at the bottom.
Bottom freezers allow you to have all your refrigerated food at the level of your eye, so you do not have to bend to get stuff. However, they often experience more mechanical and cooling problems compared to top freezer refrigerators.
The French door fridges have freezers at the bottom and refrigerators at the top. The refrigerator doors open to the sides while the freezer drawer pulls to the front or the side.
On the other hand, side-by-side fridges have two compartments, the freezer and the fridge compartment, each with its door. The freezer is located to the right and the fridge is to the left. It's good to note that the fridge space is more on the refrigerator side than on the freezer side.
Recommended reading: Refrigerator Buying Guide 
4. Through-Door Water and Ice Dispensers
If you are looking for a fridge with through-door ice and water dispensers, check whether it has the types of cubed ice you would like, like cylindrical ice and crushed ice.
5. Fit and Finish
One of the factors buyers consider when choosing refrigerator finishes is the color scheme of their kitchen. While a black, grey, and white refrigerator finish may rhyme well with your kitchen set-up and the color of your countertops, they may not be easy to clean or protect from scratches and dents.
If your budget allows, consider going for models with stainless steel finishes as they are easy to clean and scratch-resistant.
Recommended reading: How to Clean a Refrigerator?
6. Efficiency
Some refrigerators consume a lot of electric energy. In most cases, the more features in a refrigerator, the more electricity it consumes. That is why you should always go for fridge models that are energy star certified.
You may get a brand that has impressive refrigeration features, but if it is not energy-star certified, it could make you incur hefty electricity costs.
7. Humidity-Controlled Drawers
It is essential to store vegetables and fruits in separate crisper drawers and adjust the humidity in each drawer as required to prevent them from drying or spoiling.
Although some side-by-side refrigerators have humidity-controlled crispers, most of them only have adjustable controls on the drawers, so it's always good to check this out before buying a unit.
8. Deli Drawers
Some side-by-side refrigerator models have deli crispers that do not have an adjustable thermostat. So it is good to check this when getting a side-by-side fridge.
9. Spill-proof Shelves
Spill-proof shelves with raised border edges are better than frameless glass shelves because they do not break easily.
---
Best side-by-side refrigerator with water and ice dispenser for 2023
If you are looking for a side-by-side refrigerator with water and an ice dispenser, then you are in the right place.
Kenmore 36″ Side-by-Side Refrigerator and Freezer
This Kenmore 36″ Side-by-Side Refrigerator and Freezer is the perfect refrigerator for any kitchen. It features a large 18 cubic foot freezer and 25 cubic foot refrigerator, which makes it great for storing your frozen foods or beverages with ease.
The door bins on this model are adjustable, so you can organize your food items exactly how you want. The dual evaporators in this Kenmore refrigerator help keep your food fresher longer, so you can have delicious meals every time.
The Kenmore 36″ Side-by-Side Refrigerator and Freezer have an electronic thermostat control so you can easily adjust the temperature in your refrigerator or freezer to keep food at its proper temperature level.
This model also comes with a water filter in the dispenser, which ensures clean and fresh-tasting water every time you need it. The auto-defrost feature on this Kenmore refrigerator keeps ice buildup at bay by automatically defrosting when needed, which saves energy and money over time.
The ice maker in this Kenmore refrigerator allows you to make up to 26 pounds of ice per day, which is perfect for entertaining guests or keeping drinks cool during hot summer days outdoors.
---
Best side-by-side refrigerator without ice maker for 2023
GE GNE27JYMFS Side-by-side refrigerator
The GE GNE27JYMFS is a great addition to your kitchen. The sleek stainless steel finish and sleek handle design allow this unit to fit in with any decor.
This refrigerator has an adjustable thermostat for precise temperature control and can hold up to 24 cans of soda, plus room for plenty more food or beverages! There are 3 adjustable glass shelves that slide easily in and out, giving you easy access to all items in the door and freezer compartments.
There are 2 humidity-controlled crispers on the bottom shelf of this model that can be adjusted to your liking, keeping your fruits and veggies fresher and longer! This model also offers an ice maker on the door that makes up to 10 pounds of extra-large cubes every 24 hours so you will never run out of ice! This refrigerator is ENERGY STAR® qualified.
---
Best side-by-side refrigerator without water dispenser for 2023
LG LFCC22426S 22.8 Cu. Ft. French Door Counter-Depth Refrigerator
No deals found. Come back later!
This LG counter-depth refrigerator features a stainless steel exterior and glass shelves for an elegant look that fits well with your kitchen decor. The LG 21 cu. ft. counter depth refrigerator has the largest capacity in its class and can store up to 20 bottles of wine at once, making it ideal for hosting parties or catering events.
The LG french door refrigerator features a sophisticated design that complements any kitchen décor. The black stainless steel finish on the exterior of this LG refrigerator adds a touch of elegance while still being functional enough to keep food cool and fresh. The black stainless steel handles also add to the sophisticated look of this LG french door refrigerator, making it perfect for any modern kitchen design.
This LG french door refrigerator has five adjustable glass shelves that are easy to adjust and move around as needed, so you can always find the right place to store items like condiments or vegetables in your fridge! To make things even easier, there is also an egg tray inside the door that allows you to easily store up to 12 eggs at once!
---
Best luxury side-by-side refrigerator for 2023
GE Profile PVD28BYNFS 36″ 4-Door French Door Refrigerator
This GE refrigerator is a great choice for small kitchens or large families. With a sleek stainless steel finish, this model features an adjustable temperature control that allows you to adjust the temperature of the refrigerator and freezer separately.
The door alarm alerts you when a door is left open for longer than two minutes, helping to prevent spoilage. The door handles are designed to be easy to grip, even with wet hands.
This model has four full-width drawers in the refrigerator section and three adjustable shelves in the freezer section for the convenient organization of food items.
The LED lighting provides bright illumination throughout the interior of this unit. In addition, this model comes with a reversible door hinge and an auto-defrost system that eliminates the need for manual defrosting.
---
Most reliable side-by-side refrigerator brand for 2023
The most reliable side-by-side refrigerator brand for 2023 is Samsung. The South Korean company has produced some of the best refrigerators on the market and has earned a reputation for quality and durability.
It's not surprising that Samsung leads the pack when it comes to reliability. As one of the largest electronics manufacturers in the world, it makes sense that they would be able to make high-quality products that last for years on end.
---
Side-By-Side Refrigerator Deals for November, 2023
-14%
Bestseller 1
Bestseller 2
Forno Freestanding 48 Inch Side by Side Bottom Mount Freezer Refrigerator with 22.2 Cubic Ft. Total Capacity - Stainless Steel No Frost Fridge with Adjustable Shelves and and Child Safety Lock
𝐅𝐑𝐄𝐒𝐇 𝐅𝐎𝐎𝐃 𝐙𝐎𝐍𝐄: The fresh food compartment offers ample storage space to store your fresh food with 8 adjustable glass shelves, a gallon bin, and easily accessible crisper drawers when doors are open at 90°. This side-by-side freezer refrigerator fresh food storage capacity of 15.86 cubic feet
𝐅𝐑𝐄𝐄𝐙𝐄𝐑 𝐙𝐎𝐍𝐄: The 6.36cu. ft. bottom freezer compartment accommodates plenty of freezer space and offers a convenient fast freeze setting. The No-Frost air-cooling system for the refrigerator and freezer compartments provides optimal temperatures of +2ºF to + 6ºF and humidity control to keep food fresher longer
𝐅𝐄𝐀𝐓𝐔𝐑𝐄𝐒: The electronic touch control and digital LED interface simplify the setting and monitoring of all vital functions. Stainless steel doors have a special treatment that eliminates fingerprint smudges. LED lights provide clear illumination of the interior compartments
𝐒𝐀𝐁𝐁𝐀𝐓𝐇 𝐌𝐎𝐃𝐄: Interior lights are not affected by opening and closing the door. The refrigerator will be put in a timed defrost mode, and ice makers, ice dispensers, and control touch screens will be turned off
𝟐-𝐘𝐄𝐀𝐑 𝐖𝐀𝐑𝐑𝐀𝐍𝐓𝐘: We stand behind each appliance we design and manufacture. The 48-Inch side by side bottom mount freezer refrigerator by Forno offers an industry-leading 2-year factory parts and labor warranty
Bestseller 3
Yeego 30 inch Beverage Refrigerator, Two 15'' Coolers Side-by-Side Freestanding Fridge under Counter Beer for Drink Soda Wine, Hold 160 Cans
Flexibility Capacity Yeego's beverage cooler takes only 29.6(l) x 22.4(w) x 33.9 (h)inches of space and can be installed under counter in the kitchen or bar area, or used as two freestanding fridges in the bedroom or living room! 8 removable shelves, you can set up the space as you like to store different sizes
30 Inch (15''+15'') - Use in Combination or Separately : Side-by-side beverage refrigerators are 15 inches in size, you can use these in combination or separately, it's a compact and space-saving option for homes, offices or the bar
Quiet & Low Vibration Yeego's built-in beverage refrigerator runs quiet operation (≤41db), with no disturbance to its natural occurring sediments.Sleek stainless steel frame with 2 layers of tempered glass stabilize temperature levels inside and keep glass from fogging
Thoughtful Design Yeego's beverage fridge provides sincere and effective design like reversible door design allows flexible choice of the direction of the door, Leveling legs can adjust feet and keep level placement anywhere. two true-key locks to avoid the door being opened inadvertently. Blue LED interior lighting not only gives you better visual effects but also makes it convenient to pick drinks in the dark
One Year Yeego'beer fridge provides you with a one-year service. We are committed to providing customers with the most satisfactory service. You can contact us at any time if you have any questions
Bestseller 4
Kenmore Elite 51773 28 cu. ft. Side-by-Side Refrigerator with Accela Ice Technology in Stainless Steel
28 cubic foot capacity with Genius Cool features a linear compressor and dual evaporators that create ideal temperatures in both the refrigerator and freezer. SmartSense Temperature Management senses shifts in temperature and adjusts for optimal cooling.
Accela Ice feature boosts ice production for 24 hours so there's plenty of ice for parties
Hands-free dispensing is NSF certified to remove 99.9% of contaminants. Refrigerator shelf material: glass, handle material: metal, freezer shelf material: glass, door finish: smooth
CleanFlow Air Filtration keeps your fridge smelling fresh and clean and is 15 times more effective than baking soda
Item dimensions are length 35.13 by width 35.5 by height 68.88 inches. Measure the available space to ensure the item will fit.
Bestseller 5
Winia WFRSY22D2B Side Mounted Refrigerator, 20 Cu.Ft, Black
Counter Depth Design - The counter depth styling is designed to fit flush with your countertops, providing a sleek, built-in look in your kitchen
Crisper Bins - 2 clear Storage Bins are great for separating fruits and vegetables and provide easy access to healthy foods
Crisper Bins and Humidity-Controlled - Choose the ideal humidity level with Humidity-Controlled Crispers – high for leafy veggies, low for longer lasting fruits
Air Filter - Carbon based Neutra Fresh air filter neutralizes odors, leaving your refrigerator smelling fresh
Water Filter - NSF 42 certified - The easy to change NSF-certified Water Filter removes contaminates for clear, great tasting ice and water so you don't need to rely on bottled water
Bestseller 6
Bestseller 7
Bestseller 8
Bestseller 9
Bestseller 10
---
You may also ask
How do I organize a side-by-side refrigerator?
Organize one side at a time. Start with the refrigerator section and put condiments and juices in the door bins. Put foods that need high-humidity or low-humidity environments in the crisper drawers, the meat in the meat deli, and the dairy products in the dairy boxes. In the freezer zone, store the food using the "first in, first out" principle to ensure that you use the food before it expires.
How do I level a side-by-side refrigerator?
Remove any obstacle that could be blocking the bottom of the fridge to expose its legs. Then you can level the legs by rotating them up or down. However, you need to carry out this process on a flat surface to ensure that all sides are even.
How long do side-by-side refrigerators last?
The estimated life expectancy of side-by-side refrigerators is between 8- 12 years. If you get a side-by-side refrigerator from a reliable brand, then the unit is likely to function efficiently and reliably with regular maintenance within that time.
What's the best warranty for a side-by-side refrigerator?
One of the things that assist you in estimating the life expectancy of a refrigerator is the warranty that a company offers for a unit. Get a refrigerator with a warranty covering parts and labor for one year and a sealed system for five to seven years, including the compressor.
How much do side-by-side refrigerators cost?
The cost of side-by-side refrigerators varies depending on their size, features, and brands. The larger the size of a side-by-side refrigerator, the more expensive it is, so getting a fridge that adequately fits your needs is always prudent. If your family is small, getting a smaller fridge would be more practical.
A refrigerator with few features costs less than fridges with several additional features, especially smart ones. So if you are on a budget, get a refrigerator with features that can adequately meet your needs.
Some refrigerator brands are more expensive than others. Brands like Samsung and LG produce appliances with smart high-end features, so their refrigerators are often highly-priced. If you are tight on a budget, a fridge brand like Whirlpool could provide you with a reliable and cheap option.
The price also depends on the cost of repair, energy efficiency, and warranty cover for the fridge. So when buying a refrigerator, get one from a reputable company, which has a lengthy warranty as this will save on repair or replacement costs. It should also be energy star certified to help you save up on electric energy.
---
All other trademarks are the property of their respective owners: Samsung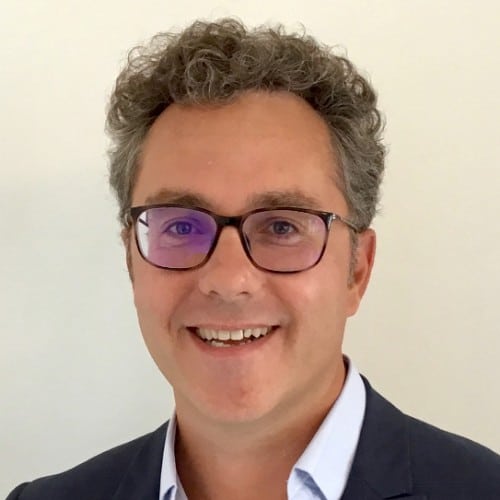 E Pery is the founder of refrigerator.deals and a webmaster. He runs his own websites and loves… refrigerators! Convinced that buying and maintaining a refrigerator is not easy, he decided to create refrigerator.deals, in order to help people make the right choices.
Refrigerator.deals is a participant in the Amazon Services LLC Associates Program, an affiliate advertising program designed to provide a means for sites to earn advertising fees by advertising and linking to Amazon.com. Last update on 2023-11-09 / Affiliate links / Images from Amazon Product Advertising API