Last Updated on February 5, 2023 by E.Pery
The top freezer refrigerator is a long-established type of fridge that customers have appreciated for a long time. Although other modern refrigerators have emerged to rival the top freezer, this classical fridge has stood the test of time through its reliability, energy efficiency, low price, and convenient size and capacity.
It is still the most reliable fridge in the market, offering you many years of service with few needs for repairs. Its low price makes it affordable for most people, and its energy efficiency reduces the overall cost of electricity. This refrigerator type has also undergone several technological advances in recent years, such as a smart compressor system and smart diagnosis.
So whether you want to get a new appliance for your small family of three or two people, or additional storage space for your weekly meal preps, this refrigerator offers you not only adequate storage but also the reliability that you may not get from other refrigerator types.
When you buy through our links, we may earn a commission — Learn more >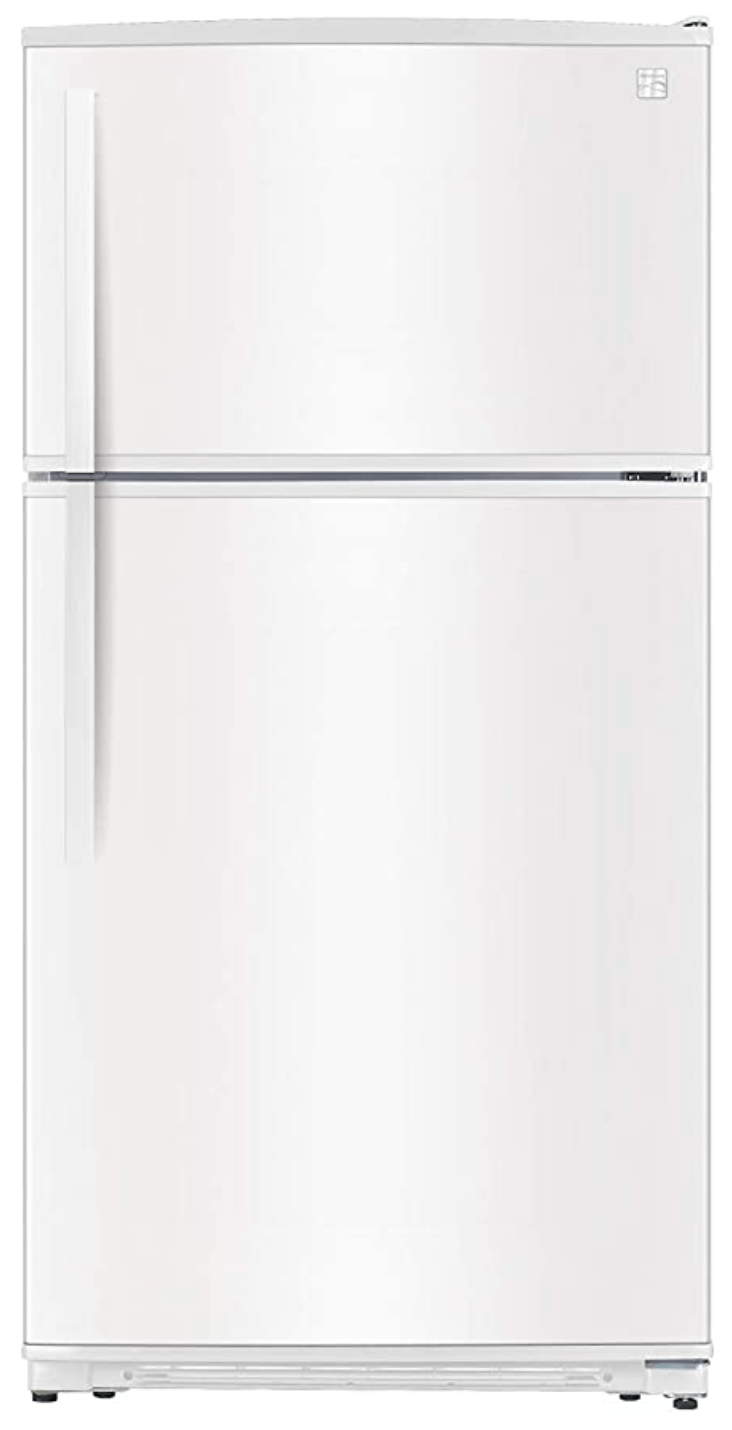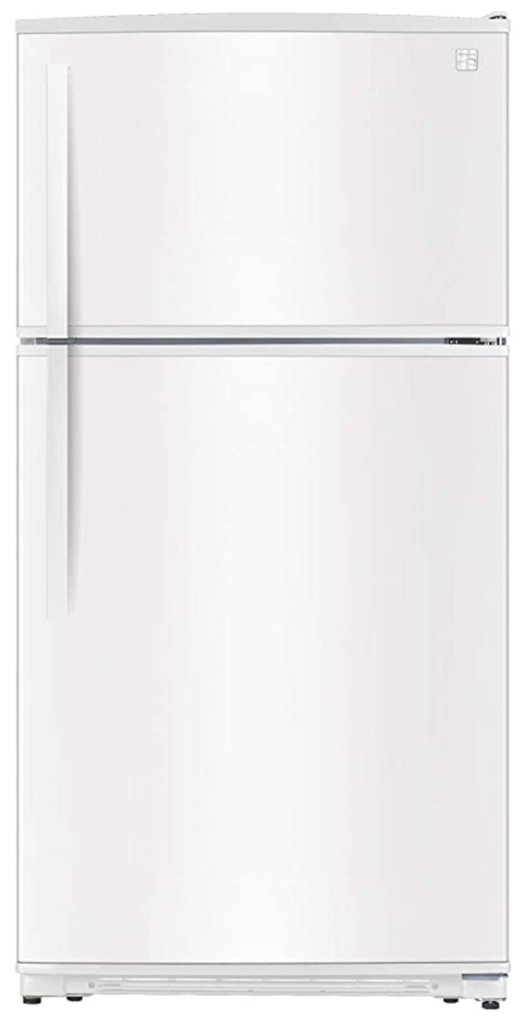 Top 5 rated top-freezer refrigerators for 2023
Frigidaire Gallery FGHT2055VF
GE GTS22KSNRSS
Samsung RT18M6215SR
Maytag MRT11GFFFZ
Whirlpool WRT518SZFM
1. Frigidaire Gallery FGHT2055VF
The Frigidaire Gallery FGHT205 is one of the best top freezer refrigerators. It offers you 20 cubic feet of storage to compliment your French door or side-by-side refrigerator that cannot fit all your food items, especially during family events like Christmas and Thanksgiving.
It has outstanding cooling performance that reduces food spoilage and increases the life span of the refrigerator. Its ice-ready interior design allows you to install an ice maker if you need to, and its humidity-controlled crisper your fresh produce crispy until usage.
Other impressive features about this model include full-width glass shelves that are spillproof and deli drawers to keep your cheese and meat safe.
This wire freezer shelf gives you extra freezer space and enables you to keep your freezer organized. It also has a smudge-proof stainless steel finish, although you can now get it in a black stainless steel finish.
Pros:
Improved food preservation enabled by humidity-controlled crisper drawers
Adjustable spill-proof shelves
Reliable
Has uniform temperature throughout the unit
Energy Efficient
It has an adjustable thermostat
Bright LED interior light
Cons
Not ideal for a large family
The content of the refrigerator compartment is not at eye level
You will need to install an icemaker
---
2. GE GTS22KSNRSS
It would be best if you put much into consideration when getting a refrigerator for your garage. The temperature in the garage is often higher than in other areas of the house. Hence excessive heat forces the freezer or refrigerator to work excessively to keep the food cool.
As a result, it wears itself off and increases electricity costs, and makes the freezer normalize warm temperature as freezing temperature.
The GE GTS22KSNRSS is the best top freezer refrigerator for your garage. It is 33 inches wide and has a storage capacity of 22 cubic feet which offers a family of five enough space to store their fresh and frozen foods.
It is designed to be operated from a garage at a temperature between 38 degrees to 110 degrees Fahrenheit. This temperature range can adequately keep the fridge cold despite the warm atmosphere in the garage.
Some of the features that make it the best top freezer refrigerator include adjustable glass freezer and fridge shelves, a sliding deli drawer, a spill-proof freezer floor, and temperature controls that are easy to use.
It also has a premium inner door that has modular bins that you can use to hold bottles and cans. The high gloss stainless steel finish gives your garage a sleek appearance.
Pros
It is designed to handle extreme temperatures
Adjustable shelves in the freezer and the fridge
Organized door modular bins
LED interior light
Good temperature control
Variant finishes suit different kitchen designs
Tempered glass freezer
Very spacious
Cons
The ice maker is not as great as other refrigerators.
The content of the refrigerator compartment is not at eye level
It does not have recessed handles.
---
3. Samsung RT18M6215SR
If you are looking for a top freezer with modern and smart features, look no further. The Samsung RT18M6215SR is a 30-inch wide refrigerator with an 18 cubic feet capacity.
You can increase the storage space in this fridge by adjusting the shelves to keep taller items like milk jars and wine bottles. The space is also complemented by a slide-and-reach pantry drawer, which helps you keep your favorite snacks within reach.
You can add storage space by converting the FlexZone freezer into a storage area. You will find this feature quite advantageous when you are having a party or during Christmas and Thanksgiving, as this section of the fridge keeps your frozen food fresh for a very long time.
The refrigerator also has interior LED lighting that brightly illuminates the fridge's content for easy reach at night.
Although this refrigerator has only two full-width shelves, its clear door shelving gives your kitchen a premium touch. What is more, the fridge is energy-star certified, has a reversible door that enables you to fit, and has a stainless steel finish.
However, you can get a cheaper one with a stainless steel finish that is not fingerprint-resistant.
Pros
Freezer capacity: 4.9 cubic feet
Refrigerator capacity: 12.7 cubic feet
Factory-installed icemaker
FlexZone freezer can be converted into extra fresh food space
Energy Star rated
LED lighting
Reversible door
Twin Cooling Plus, which helps prevent spoiling and freezer burn
Cons
The refrigerator is not at eye level
---
4. Maytag MRT11GFFFZ
Maytag MRT11GFFFZ is another excellent top freezer refrigerator that you could consider. This whirlpool refrigerator has a width of 30 inches and an 18 cubic foot storage capacity. It has a full-width pantry drawer and fresh lock crispers that slide in and out smoothly, whether empty or laden.
It also has white plastic door shelves that are not fully enclosed at the bottom. This allows you to keep track of short and small items like jam jars.
The Maytag MRT11GFFFZ boasts a unique power cold feature that enables you to lower the temperature in the vegetable crispers to keep them under optimum temperature for long-lasting freshness.
It has a fingerprint-resistant stainless steel finish that is smudge and mark-proof. However, you can also find a model with monochromatic stainless steel if you prefer a satiny finish to traditional stainless steel. The latter is less expensive than the former, but both give your kitchen a sleek modern look.
The most impressive thing about this refrigerator is its ten-year limited parts, including the compressor warranty. So this fridge is not only one of the best top freezer refrigerators because it gives you modern features but also because it is durable and reliable.
Pros
Bright Series LED lighting
Up-front electronic temperature controls for easy adjustments
Full-width deli drawer and a clear dairy bin
Ten-year warranty on parts and compressor
Unique Power Code Feature
Cons
The optional ice maker kit is not pre-installed
---
5. Whirlpool WRT518SZFM
If you live alone, have a small family, or want to get a top freezer fridge for additional storage space, then the Whirlpool WRT518SZFM is one of the best 28-inch width top freezer refrigerators you could get yourself.
This refrigerator adequately handles all your storage needs in addition to offering you some impressive features, such as an optional EZ connect ice maker kit. The ice maker, sold and installed separately, conveniently provides you with a steady supply of ice for your water and drinks.
Other features that may excite you include humidity-controlled crispers for keeping your vegetables and fruits fresh and adjustable indoor bins that you can use to mount food items, bottles, and jars.
It also has frameless glass shelves, an extra flex-slide bin, and a separate freezer temperature control that keeps the temperature in the refrigerator, even in the freezer and refrigerator compartment.
This refrigerator also comes in varied finishes. So you can choose a top freezer fridge with black, white, stainless steel, or fingerprint-resistant stainless steel.
Pros
Bright LED interior light
Varied finishes that can fit any kitchen design
Excellent reliability
Energy efficiency
The optimum temperature for both fridge and freezer compartments
Uniform cool air distribution
Cons:
Fairly noisy
The ice maker is not as great as other refrigerators.
---
Are top-freezer refrigerators good?
The top freezer refrigerator is a more versatile option since it can accommodate more types of food and drink. As the name suggests, this type of refrigerator features a top-mounted freezer compartment. The main compartment is located directly beneath, and it typically has two doors.
Top freezer refrigerators are often referred to as "upright" or "side-by-side" models. These are usually large enough for most families needs, but if you're looking for something larger, you might want to consider a side-by-side model instead.
Upright models are also more convenient to use than side-by-side because they have fewer parts and are easier to clean. Side-by-side models may be better suited for small kitchens or if you need extra storage space in your kitchen.
Advantages of Top-Freezer Refrigerators
There are several advantages of top freezers:
Storage Space
Top freezers have more storage space overall than side-by-side models because they have an extra freezer compartment at the top of the unit. This allows you to store more frozen goods without taking up too much room in your kitchen.
More affordable
The main benefit of choosing a top freezer refrigerator is that it is often more affordable than similar models with side-by-side doors or bottom freezer doors. This means that these models are ideal for families who want a large amount of storage space without paying too much money for it.
Better insulation
Another benefit of choosing a top freezer refrigerator is that they tend to have better insulation than other styles because they don't have cold air blowing out the back when they's running as side-by-side models do. This makes them better suited for use in colder climates where freezing temperatures are common during the winter months.
Another benefit of top freezer refrigerators is that they don't need to be vented as bottom freezers do. This makes them more efficient and less expensive to run than the traditional type of refrigerator. You'll also find that they use less electricity than other types
---
Best top-freezer refrigerator brands for 2023
LG top-freezer refrigerator
LG, a top brand in the industry, offers a wide range of refrigerators with different features and designs.
Kenmore top-freezer refrigerator
Samsung top-freezer refrigerator
---
Top-freezer refrigerator without ice maker
Top freezer refrigerators are available with or without an ice maker. A top freezer refrigerator without an ice maker is often a more affordable option and can be a great choice for those who don't need to store large amounts of ice.
If you live alone or have a small family, a top freezer refrigerator without an ice maker may be just what you need. Top freezers usually have less storage space than other types of refrigerators, but these models are still great for storing fruits and vegetables, as well as leftovers.
A top freezer refrigerator without an ice maker allows you to save money by buying your own bags of ice from the store instead of using an expensive built-in ice maker. You can also save time by not having to wait for your refrigerator to freeze up before getting your first batch of ice cubes out of it.
---
10 essential tips before buying your top freezer refrigerator
Here are a few tips for buying a new or a replacement top freezer fridge.
Measure your space
Consider the door swing
Is the Fridge Garage ready?
Is the Fridge energy-efficient?
Does the fridge have LED lighting?
Shelving Options
Cooling Performance
Design
Finish
Ice Maker
Recommended reading: Refrigerator Buying Guide [8 simple steps]
1. Measure your space
Although top freezer refrigerators generally have a smaller storage capacity than other models, some are larger. You may buy a fridge over 30 inches in width and end up returning it because it does not fit into your available kitchen space.
So it is crucial to measure the available space for the fridge and then get a model that will fit without obstructing airflow.
2. Consider the door swing
It is vital to put the door swing measurement into consideration when taking the space measurement. Consider the location of other furniture in the kitchen to decide whether a right-swing or left-swing top freezer will be best for your kitchen.
The refrigerator door should be able to open without any obstructions. You could also opt to go for a model with a reversible door. It is essential to note that it might cost you more to install the reversible door.
3. Is the Fridge Garage ready?
The temperature in most garages is warm and not convenient for the location of a top freezer refrigerator. This is especially so for garages located in a warm locations. Unless the refrigerator is designed for a garage, it may not provide adequate cold air to keep the fridge's content fresh.
The high temperature often impacts the thermometer reading and affects the proper functioning of the unit. So when buying a top freezer refrigerator, ensure that its temperature range is generally meant for the garage.
4. Is the Fridge energy-efficient?
Top freezer refrigerators are more energy-efficient than other refrigerator types. However, you should get an energy star-certified appliance, especially if you get a fridge for additional storage space.
Each extra appliance in the home increases your annual electricity costs. Getting an energy-efficient top freezer refrigerator could reduce your electricity costs by nearly 15 percent.
5. Does the fridge have LED lighting?
LED lighting is energy efficient, and it is also very bright compared to other bulb types. Moreover, LED light kills a certain degree of bacteria and other harmful organisms in the fridge.
Not all refrigerators have light in the freezer. So ensure you get a model that has a bright LED light in both freezer and refrigerator compartments.
6. Shelving Options
The size of a refrigerator matters much less when you have good shelving options. Full-width and half-width deli drawers could provide you with convenient storage space for your meat and cheese products which would otherwise be pushed to the back of the fridge or piled in the freezer.
Recommended reading: Refrigerator Sizes: A Guide To Measuring Fridge Dimensions [In 6 Steps]
Getting a top freezer refrigerator with full-width door shelving or half-width adjustable door bins would be even greater. Although this option would cut down on the overall storage space, it could give you the flexibility to store tall items like wine bottles, especially if you are using the fridge as secondary storage.
Current top freezer models such as the Samsung RT18M6215SR solve some of the pain points of the pastor and some current top freezer models.
7. Cooling Performance
Not all refrigerators have even cold air distribution. When buying a refrigerator, it is always good to check its compressor performance and cooling technology to ensure even cold air distribution throughout the fridge. If a refrigerator's compressor performance is lacking, the top freezer refrigerator will likely have warm spots where food is likely to spoil.
Check whether your top freezer refrigerator has a powerful compressor that will keep the whole fridge at temperature optimum all the time.
8. Design
Contemporary refrigerator designs such as the bottom freezer, side-by-side fridge, and French door refrigerators may not all be at the top freezer refrigerator in reliability and durability.
However, they have very appealing designs that often casts the top freezer refrigerator in the shadows. So when purchasing a top freezer model, ensure that it has some of the modern features that new models have.
9. Finish
Although the finish of a refrigerator does not affect its performance, it can influence the overall look of your kitchen. Typical top freezer refrigerators come in black-and-white variations.
This may work out for you if you have white or dark-colored countertops. However, if you have a contemporary kitchen design, a stainless steel finish will complement it better than the white and black variant.
10. Ice Maker
Top freezers do not have a door ice maker. And although they have a design that allows you to install ice makers if you want to, the ice makers are often substandard.
Having a top freezer refrigerator that does not have an ice maker makes it more reliable than refrigerators with ice makers. They experience fewer repairs and have a longer lifespan compared to other models.
However, if an ice maker is a must-have in a fridge, you could get a high-end top freezer model with an in-built ice maker in the freezer section. This model will give you a steady supply of ice cubes for your drinks without using ice cube trays like regular top-freezer refrigerators.
---
4 reasons Why should you buy a top freezer refrigerator
Best for Apartments: Unlike other contemporary refrigerators, the top freezer fridges are much smaller in size and occupy less space. This makes them the best fridge models for apartment owners.
More Affordable Price Tags: The top freezer refrigerator design is classic. Unlike other contemporary models, this type of fridge does not have complicated features like smart compatibility and multiple air cooling systems. They are also quite energy-efficient, and so besides parting with just a little money for it, operation costs are also relatively minimal compared to other fridges.
More Reliable: Most top freezers do not have an in-built ice maker, making them one of the most reliable refrigerator types. Refrigerators with ice makers often experience mechanical issues that make maintenance costs relatively high and reduce the refrigerator's lifespan.
Better Storage Space: If you want to get a refrigerator for additional storage space, then the top freezer fridge is the best model to get because it not only provides you with adequate storage for your fresh and frozen foods but also because it is energy efficient, reliable and requires little operation cost.
---
You may also ask
When Should You Avoid Buying a Top Freezer Refrigerator?
When you need a high-end refrigerator for your custom kitchen.
If your kitchen has a custom design, a top freezer refrigerator would not be an ideal choice for you. Perhaps you could consider getting a built-in refrigerator that would sit flush with your kitchen counter and a design that is just as elegant as your cabinets.
What Refrigerator Size Is Best for You?
Before purchasing a top freezer refrigerator, it is best to evaluate the refrigeration needs of your family depending on its size and eating habits. This primarily depends on your refrigeration needs and family size. Although top freezer fridges offer adequate storage for people who live alone or have small families, it might be a little limiting for larger families.
Top freezers have a storage capacity of between 16 to 33 cubic feet. If you live alone, you could get enough storage space from a refrigerator with 16-20 cubic feet of storage space. And if you have a small family of four, a fridge with 20-23 cubic feet of storage space could adequately cater to your storage space.
What should you do if your top freezer refrigerator is running but not cooling?
Unlike contemporary refrigerators, which have automatic diagnostics, the top freezer refrigerator requires a few diagnostic tips for you to identify the problem when the cooling system becomes faulty. Here are a few steps you should take to diagnose the problem.
Check the temperature and reset it in case the controls have been accidentally bumped into.
Ensure the condenser coils are clean. If they are not, carefully clean them to remove the plaques that could be obstructing the fridge's airflow.
Ensure that the fridge is three-quarters full. An empty fridge or a fridge that is too full could cause cooling issues for the fridge.
---
Best top freezer refrigerator deals for 2023
---
All other trademarks are property of their respective owners: Samsung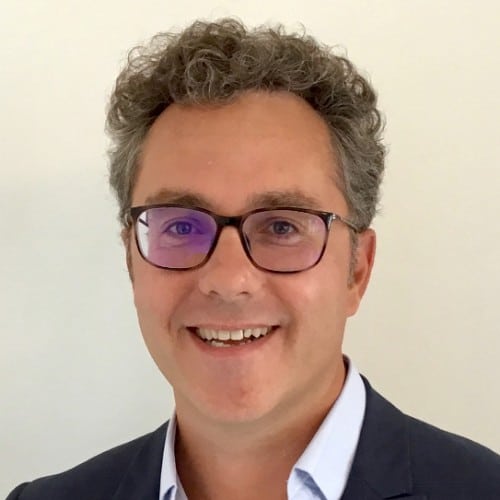 E Pery is the founder of refrigerator.deals and a webmaster. He runs his own websites and loves… refrigerators! Convinced that buying and maintaining a refrigerator is not easy, he decided to create refrigerator.deals, in order to help people make the right choices.
Refrigerator.deals is a participant in the Amazon Services LLC Associates Program, an affiliate advertising program designed to provide a means for sites to earn advertising fees by advertising and linking to Amazon.com. Last update on 2023-05-07 / Affiliate links / Images from Amazon Product Advertising API