Last Updated on January 1, 2023 by E.Pery
Refrigerators are essential appliances in our lives, both at home and at work. However, they can be quite space-consuming, especially for apartment homeowners.
But recent advancements in technology advancement has facilitated the manufacture of refrigerating appliances that are small enough to fit under your cabinet and just as functional as large refrigerators.
There are several reasons why under-counter refrigerators are becoming popular in homes, work settings, and commercial kitchens. Not only are they space-efficient and have a sleek modern appearance, but they are also quite sturdy, durable, and easy to access. The features of the under-counter refrigerators are also environmentally friendly.
But how can you choose the best undercounter refrigerator for your modern commercial kitchen or your small clinic without losing out on essential features or paying an unnecessarily high price for it?
This article explores the best undercounter refrigerator on the market and highlights features to look for when buying one to help you make the perfect choice for your home, kitchen, or clinic.
When you buy through our links, we may earn a commission — Learn more >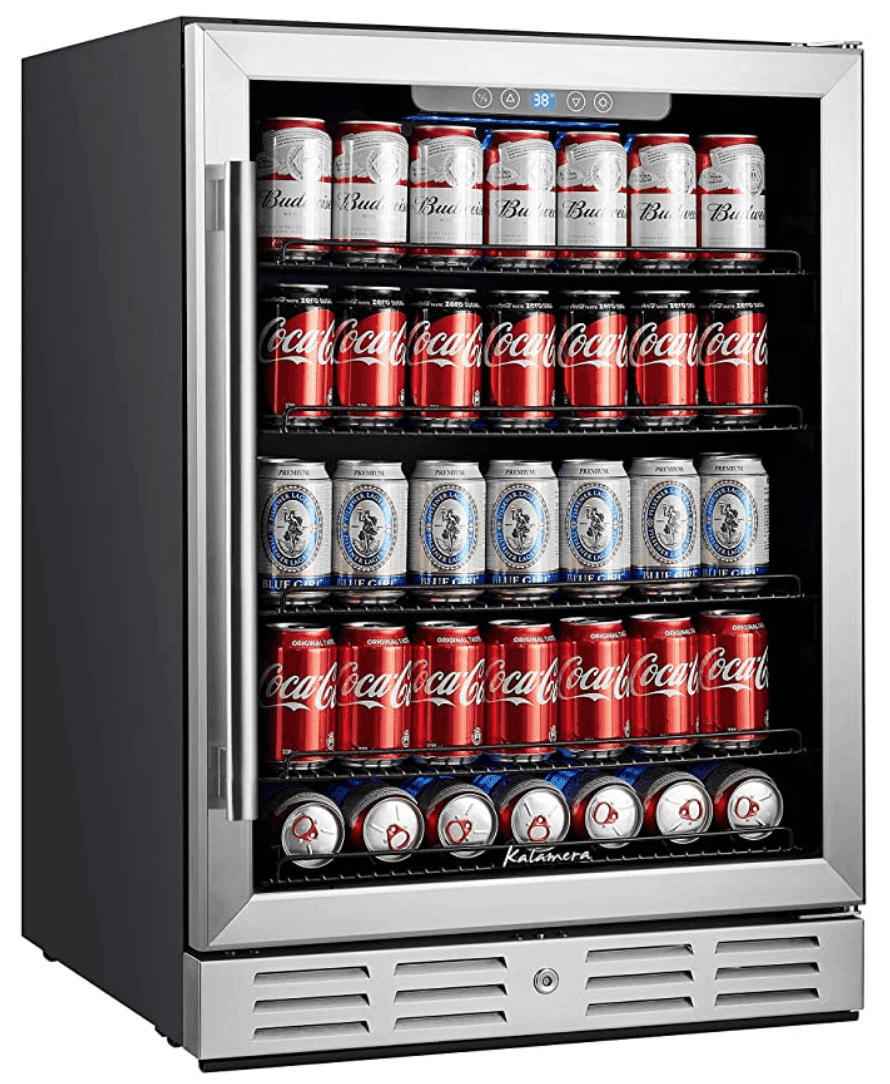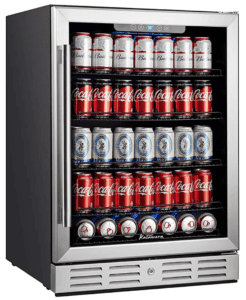 Top 5 undercounter refrigerators for 2023
Kalamera Beverage Cooler and Fridge
Edgestar CBR1501SLD
3. Avallon AFR241SSRH
RCA RFR322-B Stainless Steel Mini-Fridge
Kalamera 24″ Beverage And Wine Cooler
1. Kalamera Beverage Cooler and Fridge
Best Features
Convenient Size
The Kalamera beverage fridge and cooler is a 24-inch appliance that can fit under your home kitchen's compartment or be used as a free-standing refrigerator at your workplace without taking much real estate.
This fridge has a convenient size compared to other undercounter refrigerators. Most customers like it because it fits well in their spaces.
Recommended reading: Refrigerator Sizes: A Guide To Measuring Fridge Dimensions [In 6 Steps]
Large Storage Capacity
If you love spending your evenings watching the sunset while seeping a cool beverage or drink, this refrigerator can keep your bar stock for an entire summer. It has a storage capacity of about 175 cans and could be ideal for you if you love watching a game with friends over drinks.
If you have assorted sizes of drink bottles, you can remove one of the five sliding metal shelves to create more space for larger bottles.
LED Blue Light
This refrigerator also has an LED blue light that gives enough light when the under counter fridge is opened. The LED light is handy at night or in a dark room such as a basement or garage.
Temperature Memory Function
One of the most remarkable features of this refrigerator is that it has a good temperature memory function. This means that you do not need to reset the original temperature setting of the under counter fridge because it goes back to the set temperature range as soon as the power comes back after an outage. This prevents stored drinks from getting worse due to exposure to high temperatures.
Recommended reading: What Temperature Should A Refrigerator Be?
Safety Lock
Suppose you intend to use this refrigerator to store delicate materials such as blood samples and medicines in a laboratory. In that case, you do not need to worry about safety because this refrigerator comes with a safety lock.
So no unauthorized person can get access to the content of the fridge. This refrigerator can be quite an asset at home, especially for safely storing alcoholic drinks away from children.
Desired Temperature and Cooling Capacity
Kalamera beverage cooler and fridge also can maintain lower temperatures compared to other types of fridges or brands. It has the desired temperature range of 32°- 41°F that will allow you to keep your beverages drinks in the refrigerator without overworking them.
Sleek Design
This stainless steel refrigerator also has a sleek, attractive design with a triple-layered transparent glass door. It has a temperature down and up button at the top and a display showing the refrigerator's current temperature. You can change from Fahrenheit to Celsius, depending on your preference.
Extremely Silent
Another fantastic feature that buyers love about this stainless steel under counter fridge is that it is incredibly silent when it is on. So if you work at home, that buzzing sound would not in the least be a bother for you.
What's more, it has a reversible door. So if this is one of the features you are looking for when getting a refrigerator, do not strike Kalamera fridge out of your list.
Other Specifications
Weight- 104.5 lbs
Input Power- 90W
Input voltage- 60Hz/110V
Rated Current- 1.5 Amperes
Pros
It runs silently when it is on. This feature makes it suitable for use both at work and at home.
It has a reversible door and door handle that can be switched, making it possible for the unit to fit in any location.
It's easy to clean and requires little effort to maintain.
The company has good customer service
It has a convenient size that makes it ideal for kitchen spaces in varied types of homes.
It has a sturdy and durable body with a stainless steel finish that gives it a sleek modern look.
Its removable wire racks make storage of assorted drinks possible and easy to clean.
Impressive warranty period.
Cons
Although this fridge has impressive features, it is a bit costly for its purpose.
The rack arrangement system is not very impressive
The light does not always turn on when the door opens
This refrigerator is more suited for keeping beverages than for daily use in a household kitchen.
Reviews by the customers
Despite the cons above, there are no bad reviews on the products from customers so far. Most customers claim that the refrigerator meets their expectations. They are thrilled with how quiet the fridge is while it's on and its ability to maintain low temperatures.
---
2. Edgestar CBR1501SLD
The Edgestar CBR1501SLD combines a sleek modern appearance with great function. It is also a reputable firm for producing quality products. The brand has also stayed long enough in the market to prove its worth, and this quality often gives it an upper hand over other fridge models.
Let's see some of the features that make this refrigerator a favorite piece of engineering.
Best Features
Storage Space
If you are a wine lover, then you would love the Egestar CBR1501SLD too. This undercounter refrigerator can hold up to six wine bottles in its rigid bottom. It can fit a ton of beer too! It has 5.49 cu. ft. of space that you can fit about 142 12oz cold beer cans.
If you are not so much into storing beverages as you keep wine, this refrigerator has removable shelves. So, you can adjust the racks to fit more wine bottles on the upper shelves.
The bottom floor has been ridged to allow you to arrange and balance up to five wine bottles. But even if you are not a libation kind of person, you can also fit gallons of milk without feeling frustrated by the height of the shelves.
Temperature Display and Functionality
Another great feature of this undercounter refrigerator is the temperature display. The temperature display function shows the temperature you have set for the fridge and the actual temperature inside the refrigerator.
The refrigerator's digital temperature display and control function prevent you from second-guessing yourself, especially when you store items that are pretty temperature-sensitive in the fridge.
Most companies selling undercounter refrigeration units claim to have temperatures that run as low as 38°F. However, not all of them hit this unit. EdgeStar CBR1501SLD has a wide temperature range of 35°F-50°F. It hits a low of 35°F on the gauges. So, besides its great features, you also get a trustworthy brand that meets your expectations.
The auto-defrost feature of this fridge also sets this undercounter refrigerator brand apart from its rivals and has quite a sway on customers. Its carbon filter abilities further add value to this stainless steel beverage cooler.
Recommended reading: How To Defrost A Refrigerator? [6 Simple Tips]
Fan Cooling System
This fridge also has a cooling system that cools more than the inside of the fridge. The fan circulation system is more effective than the typical cold plate cooling system. It creates a cold spot for the whole unit.
Recommended reading: 
> How Long Does It Take A Fridge To Get Cold? [6 Simple Tips]
> Refrigerator Not Cooling?
Sleek Design
When it comes to aesthetics, Egestar CBR1501SLD is one of the brands that top the list. It has a glass door, a stainless steel finish, and a sleek modern structure that makes it blend naturally in your contemporary kitchen without being too formidable.
It has five adjustable shelves made of glass. The glass shelves have designer holes for better air circulation. The glass shelves enable the fridge to maintain optimum working conditions by quickly bringing down the temperature when the door is opened and closed. Glass shelves, therefore, keep beverages cooler than plastic and wire shelves.
Another great feature that makes this undercounter refrigeration unit a favorite among customers is its flush-with cabinets, making it look like a built-in refrigerator. It also has a reversible door which makes it possible to fit it under any under-counter space available at home or work.
It has front ventilation, too and so you do not need to hassle measuring your space to see if this beverage refrigerator will fit in the available real estate. Installing it without the handles further elevates the appearance of your kitchen, whether you use it as a built-in under-counter refrigerator or a freestanding refrigerator.
Price
EdgeStar CBR1501SLD comes at a very reasonable price compared to other brands that offer the same features it does. It performs to customer expectations by delivering what it claims, especially in functionality.
User Friendly
Suppose you intend to use this refrigerator unit to store beverages such as milk and homemade fruit or vegetable juices. In that case, you will love its second temperature gauge, which constantly beeps every time the door is left open or not closed properly.
This unit is even more valuable if you live with an elderly relative or children who often forget to close the refrigerator door. This function keeps your stuff at desired temperature even when you are not around. The unit also has a locking function that protects the content of your refrigerator from unauthorized persons.
Silence When Running
This refrigerator unit is also relatively silent. However, it lets out an occasional light mewing noise that could be destructive, especially when used to more silent refrigerator models.
Lighting
The EdgeStar CBR1501SLD also has LED lighting in the interior. However, the lights are pretty dim and hazy. It's not bright enough to easily access the content of the fridge, especially at night. The cloudy effect it creates can make a dark room such as a garage or a basement quite creepy.
Other Specifications
Weight: 100 pounds
Dimensions: 22-1/2″ D x 33-1/2″ H x 23-1/2″ W
Temp Range: 38-50 degrees F
Power/Wattage- 120W
Input voltage- 115V/60Hz
Pros
Adjustable glass shelves create enough room for storing assorted sizes of beverages. They also make it relatively easy to clean and prevent the content of the fridge to wobble.
The beep notifies you when the door is not correctly locked, thus preventing damage to the fridge or its contents.
It maintains an actual temperature of 35°F.
It is pretty user-friendly.
It fits flush with most kitchen counters.
It is not too heavy.
The brand has proved to be a solid refrigerator manufacturer.
It has fan cooling features that are more effective than cold plates in cooling the fridge evenly.
It has auto-defrost features.
Cons
It's challenging to keep the removable glass shelves.
The blue LED light provides inadequate lighting.
Unlike other under-counter refrigerators, this beverage refrigerator cannot be used outdoors as designed for indoor cooling. It is therefore not versatile.
The auto-defrosting process lowers the temperature in the fridge to about 44-45°Fa which could damage food products that are not covered.
Reviews by the customers
Undercounter refrigerator reviews indicate that this brand has over 60 Amazon ratings. Most customers loved it for its sleek design, durability, functionality, and convenient storage. However, customers have complained about the one-year parts and labor warranty which indicates a short lifetime.
Customers have also complained about the dim, hazy lighting in the interior and the autodefrost system, which causes damage to products left open in the under-counter fridge.
---
3. Avallon AFR241SSRH Refrigerator
Avallon is a stainless steel 5.5Cu Ft under-counter refrigerator that measures 24 wide to 35 inches high in measurement. It can be used as a freestanding unit or built-in undercounter fridge both at home for your kitchen or bedroom and in a working environment.
It is especially ideal for storing beverages in households as well as foodstuffs used daily.
Best Features
Double Paned Low-E Glass
The double-paned Low-E glass is the most enigmatic feature of the Avallon AFR241SSRH Refrigerator. Ultramodern technology acts as a thermal barrier that protects your food and beverage from harmful ultraviolet rays.
The double panel low-E glass also acts as an energy saver by reflecting away unwanted heat. You may not appreciate this feature when using this undercounter refrigerator indoors, but you will find it quite impressive when using it for storage during an outdoor event.
Design
Unlike other under-counter refrigerators, the Avallon AFR241SSRH refrigerator does not have a reversible door. It has a one-side hand door opening. However, depending on the real estate you are working with, you can buy either a right or left-hand door opening.
The refrigerator has solid stainless steel make that gives it a modern look and a door lock that keeps unauthorized people like kids from accessing the fridge, especially if it is being used for storing alcoholic beverages.
The refrigerator also produces a beeping sound when the door is accidentally left open for a long time. This feature prevents food spoilage due to increased internal temperatures, which occurs when the door is left open for a long time.
Efficient Compressor System
The Avallon AFR241SSRH refrigerator has a compressor system that keeps the refrigerator efficiently cooled. However, it is a bit noisy, so unless you are accustomed to the buzzing refrigerator noise, the noise may be a bother for a few months.
The refrigerator's warranty cover for the cooler is only one year. This is one of the most significant cons of the unit. However, the compressor has a slightly more extended warranty, five years, which is a redeeming quality for the refrigerator.
Functionality
Another great feature of this refrigeration unit is that it has a single temperature zone unit. Hence, unlike a regular fridge with varying temperatures depending on the position of the compressor cooling system, this undercounter refrigerator has powerful circulation fans that keep the whole fridge cooled under the same temperature.
Whereas a typical beer cooler has a temperature range of between 34-38°F, this built-in undercounter refrigerator has a temperature range of between 34-50°F. This wide temperature range is enabled by the refrigerator's powerful fan-forced compressor cooling system.
Despite this, however, the Avallon AFR241SSRH refrigerator cannot freeze beverages. It can only keep them cold. Another cool feature is that the fridge has a digital touch control panel to regulate the temperature easily.
Storage
The Avallon AFR241SSRH has enough storage capacity for your household beverages as well as other foodstuffs. It also has three sanded glass shelves that give the unit a sleek appearance, whether it is empty or full.
These solid and durable glass shelves offer you enough storage space; they can fit up to 152 cans of beverage.
Although the removable shelves glide out easily, they cannot store wine bottles or any other big bottles. However, the refrigerator has door storage that makes up for this disadvantage by providing you with extra storage space.
The adjustable shelves are solid and durable. They also have ventilation holes that circulate the cold air to all beverages equally.
Interior LED Lighting
This refrigerator model also has automatic LED lights in the interior, which turn on when the door opens and closes. However, unlike other built-in fridge units, this refrigerator has both white and LED interior lighting that allows you to choose the type you prefer.
The LED light bars are placed at the top of the refrigerator with the white lights on the left and the blue lights on the right side but on the same level. You can set the fridge to radiate blue lights when the fridge is closed and give off white lights when the fridge is opened.
Other Specifications
Weight- 99 pounds
Dimensions- 34.5″ H x 23.9″ W x 24.2″ D
Volume- 5.5 cu ft.
Voltage- 115V
Pros
It has plenty of space on the shelves and the door giving you enough storage space for beverages and other food beverages.
An even cooling system through a single zone temperature unit.
Interior automatic LED lighting with white and blue variations.
Temperature range variation between 34 to 50°F.
Efficient compressor cooling system
Lockable door.
UV ray filtration system.
Durable build.
A beeping alarm goes off when the door is left open for too long.
Cons
The fridge is not ideal for keeping heavy glass bottles.
The lower door storage space cannot fit larger wine bottles.
The fridge door is not reversible.
They are quite expensive, especially for customers who only use the appliance for storing beverages.
It is too tall to fit under some countertops. Unlike other beverage refrigerator units, Avallon ABR214SGRH stands a few inches higher at 34.15". Therefore, it is advisable to measure the space in your kitchen before you buy this unit to prevent any inconveniences.
Reviews by the Customers
Most customers like this product because of its functionality. It also has a sleek appearance and a durable finish. However, it is quite costly. Customers are also dissatisfied with its cooling parts warranty.
---
4. RCA RFR322-B Stainless Steel Mini-Fridge
If you are looking for a freestanding undercounter refrigerator, the RCA RFR835refrigerator is one of the best choices on the market. It comes in two color variants, black and white, and a glossy finish with an attractive appearance.
It has both freezer and fridge functions and can be used as a freestanding or a built-in undercounter refrigerator.
Best Features
Storage
One of the highlights of this model is that it has enough storage space for keeping both beverages and foodstuffs. It has a freezer section that you can use for foodstuff storage and a fridge section that you could use to keep your drinks cold.
This 3.2 Cu. Ft. refrigerator has an excellent compressor cooling system and a thermostat adjusted. These two features enable the refrigerator to maintain optimum functionality in preserving beverages and food.
If you have large bottles that do not fit on the shelves, the baskets on the refrigerator section door provide you with ideal storage space. This space can fit up to 2-liter bottles of milk or large bottles of wine. It also has a built-in can dispenser that offers you a little more storage for your beverages.
Design
The RCA RFR322-B mini-fridge gives you a compact and sleek design and a stainless steel finish that enables it to blend in with the rest of the furniture in your modern kitchen.
The refrigerator's flash-back design saves you a lot of real estate, while its reversible door enables you to fit the unit under any counter in your kitchen. This feature also accommodates both right-hand and left-handed users.
Other great features customers love this model for include;
An excellent cooling system that will keep your perishable food and beverage fresh.
Other Specifications
Size: 17.5 x 18.75 x 32.75"
Weight: 47 lbs.
Both a freezer and a cooler
Pros
You can use this refrigerator for the storage of canned beverages, wine bottles as well as groceries.
Unlike other refrigerator models, it has a section for a freezing and refrigeration compartment.
It has a compact design that saves you space and fits in most under-counter spaces.
Has a built-in can dispenser and an ice tray in the freezer compartment.
It has a door basket that enables the storage of large milk and wine bottles.
It has an adjustable thermostat that allows you to control the temperature.
Has assorted color designs; stainless steel, white, black, blue, purple, red, orange, and green which allows you to pick one that best fits the interior design of your house.
A reversible door that accommodates both left and right-hand users.
High durability.
Cons
The colored options are not scratch-resistant.
The colored options are also prone to dents and other forms of damage.
It produces some annoying noises when in operation.
---
Kalamera 24″ Beverage and Wine Cooler Dual Zone Built-in and Freestanding with Stainless Steel Door
If you love hosting parties with lots of beverages or wine refreshments, this is one of the best undercounter refrigerators on the market.
Best Features
Design
This undercounter refrigerator will provide you with a dual temperature zone in one unit. However, if you need different temperatures for either zones, this refrigerator can keep both zones under diverse temperatures.
This way, you can keep different foodstuffs in the refrigerator, especially if they require various temperature zones. You can use this refrigeration unit as both a built-in undercounter refrigerator unit and a freestanding unit.
It has stainless steel French doors with double-layered transparent glass inserts that give you a clear view of the content inside. This clear view prevents you from opening the refrigerator door for a prolonged time to look for what you need.
The French doors open from the center and have a hexagonal security lock that keeps the fridge's content safe from unauthorized persons.
The left side of this undercounter refrigerator consists of seven wooden shelves, while the right has five stainless steel wire shelves.
Both shelves can be used to store drink cans or wine bottles. They are also removable, so if you need to store large cans or wine bottles, you can fit them without much of a hassle.
Temperature Variations
One of the best features of this model is that the temperature variation in either zones is different. Depending on what you want to refrigerate, you can set the left zone's temperature to range between 40-66 degrees and 38-55 degrees.
You can change the temperature on the unit through the touch buttons on the LCD screen on both sides of the fridge. What is more?
This refrigeration has a temperature control and memory function that enables it to return to its original setting when the power goes back on after an outage. The unit also provides even cooling throughout the refrigerator, unlike regular fridge units.
Storage
This under-counter refrigerator allows you to store up to 78 beverage cans on the wire racks in the correct zone and 20 wine bottles on the wooden shelves in the fridge's correct zone under different temperatures.
LED Lighting
This is one of the most impressive Kalamera 24″ beverage and wine cooler dual zone built-in and freestanding freezer and refrigerator. The blue LED panel brightens up the whole unit making it easy to spot drink cans through the glass pane before opening the fridge to reduce the time left open.
Another feature that makes this model impressive is that it's incredibly silent when it is on. It also has slight vibration, preventing the stored cans of beer from falling off the shelves.
Other Specifications
Weight- 106.9 Pounds
Dimension(without handle)- W23.4″ x H33.1″ x D22.4"
Input Power/Wattage- 90W
Input voltage- 110V/60Hz
Current Rating- 1.5 Amperes
Pros
It is extremely quiet and has minimal vibration when it is on.
Has a dual temperature zone that allows you to keep items under the ideal temperature.
Is versatile. You can store both wine bottles and beverage cans in different compartments under a single unit.
It is quite spacious.
Cons
Although you may use it to store foodstuffs, this undercounter refrigerator is more suitable for storing beverages and wine than foodstuffs.
Reviews by the customers
This product has a high rating among customers. Most of them love the product due to its quietness and minimal vibrations when running. Moreover, it is considerably cheaper than rival brands and models, considering its functionality and storage capacity.
---
8 factors to consider when choosing an undercounter refrigerator
Size
Storage capacity for items
Noise production
Temperature range and controls
Warranty
Door type
Energy rating
Price
An undercounter refrigerator is also known as a mini or compact fridge. It is a miniature of the regular fridge that's designed to fit in smaller spaces. Although these mini-fridges are much smaller in size, they have all the features found in standard refrigerators.
The only difference between regular refrigerators and undercounter refrigerators is that the mini-fridges hold fewer items and economize on space by fitting under the counter.
These refrigerators are often used as supporting fridges to the main refrigerators in the house and are often used to store beverages and other drinks that would otherwise consume much space in the main refrigerators.
However, besides home and work environments, undercounter refrigerators are also used to store snacks, beverages, and beer in patios, entertainment areas in parks, or residential properties.
Here are some of the considerations to make when purchasing an undercounter refrigerator.
1. Size
Size is the number one factor that most customers consider when getting an under-counter refrigerator. The most reason why customers get under-counter refrigerators is to increase their storage space without making their kitchen space look crowded and dingy.
Typically, under-counter refrigerators measure 15-24". If you have a space that can fit a dishwasher, then the 24″ undercounter refrigerator would fit perfectly.
Getting a smaller size would also be extremely convenient for you. However, if you have limited space, the 15″ option is more suitable for the real estate that you have.
So before you get an undercounter fridge, measure your space and know which refrigerator size is the best fit for you. As you get the measurements, leave at least 0.5 "around the appliance as this space provides room for free circulation of air.
2. Storage capacity for items
When you get a 15 or 24 inches refrigerator, storage capacity is another essential factor to consider. Undercounter fridges are smaller in size compared to regular refrigerators. The volume of food or beverage stored in the fridges is quite limited.
Hence, it is always prudent to go for a model with adjustable shelves that would enable you to fit more beverage cans or larger bottles that may not fit between the shelves.
3. Noise production
A few years ago, people had gotten accustomed to noisy refrigerators because almost all of them make buzzing noises when they are running.
However, today, more and more brands are producing silent refrigerators with very minimal vibrations when running. So, when buying an undercounter fridge, go for one that makes less sound than 40 (dB).
4. Temperature range and controls
It is recommended to get an undercounter refrigerator with a minimum temperature of between 38°F. This temperature will keep your beverages cold. However, if you need to keep your drinks even cooler, you may need to go for models with near-freezing temperatures. It would also be great if the model you settled for also had to defrost features.
It would be best to get a refrigerator model with powerful fans that evenly distribute cold air throughout the refrigeration unit. The fridge should also be easy to operate and control and be maintained at a set temperature range.
5. Warranty
Go for a brand that offers a lengthy warranty. The more extended the warranty, the more durable the appliance will be. An under-counter refrigerator's warranty, the more durable it'll likely be.
It would be best if you also got the fridge from a company with reputable customer care service so that in case you need any assistance, the company will quickly provide it.
Recommended reading: 
> Refrigerator brands to avoid [And 3 to consider]
> Which Refrigerator Brand is Most Reliable?
6. Door type
You can choose to have an under-counter refrigerator with a glass or stainless steel door. But before you settle for either of them, it would be great to know their pros and cons.
Getting a refrigerator with a stainless steel door reduces the cleaning hassle as stainless steel finishes are resistant to water streaks and scratches. The stainless steel door also offers better insulation. On the other hand, however, they are opaque, and hence it is impossible to take inventory of the stock unless you open the door.
The glass door refrigerator allows you to easily take inventory of the available stock without opening the fridge. It is also a pretty stylish and modern design which gives the fridge an appealing tool, especially if it has glass shelves.
However, glass doors have poor insulation, and hence you may want to go for the stainless steel brand if insulation is an essential factor for you.
7. Energy rating
Get an undercounter fridge from a brand that is energy efficient. The refrigerator should have an energy efficiency that is close to A+++. Avoid a model with an energy efficiency of D or closer to D.
8. Price
Undercounter refrigerators can be quite costly if you consider their lack of versatility. So when purchasing one, get one that has the features you need but falls within your budget.
---
What are some reliable undercounter refrigerator brands?
The answer depends on your needs. If you need a refrigeration unit that is large enough to hold a lot of food and beverages, then you should invest in a brand that is known for its large capacity. On the other hand, if you want something that will fit in a small space, then you should look for a smaller model.
Here are some of the most reliable undercounter refrigerator brands:
Danby
Danby was founded in 1927 by Daniel McLean and James Peddie, who both worked as salesmen at A.E. Cross Company Ltd., an appliance manufacturer in Toronto, Ontario, Canada. They wanted to start their own business and decided to focus on small appliances such as stoves and refrigerators.
The company's first products were iceboxes and ice chests made out of wood that was sold door-to-door by traveling salesmen known as "drummers" (or "junk men"). Later on, they started selling electric refrigerators under their own nameplate instead of using other brands like Kelvinator or White Consolidated Industries (WCI).
Miele
Miele has been making small kitchen appliances since 1899 and has become one of the best-known companies in the industry. Miele's products include refrigerators, dishwashers, washing machines, and dryers as well as other types of small kitchen appliances like coffee makers and juicers.
Miele's products are known for their durability, energy efficiency, and design features such as touch screens or wireless connectivity with your phone or tablet so you can control them remotely when not in use at home.
Whirlpool
Whirlpool is one of the most reliable undercounter refrigerator brands. The company is known for producing high-quality products and offering excellent customer service.
Roper
Roper has been building refrigerators since 1867. In addition to refrigerators, Roper also manufactures ranges, dishwashers, microwaves, and other kitchen appliances.
Sub-Zero, Wolf, and Thermador
They have a reputation for quality, especially when it comes to refrigeration. The prices for these refrigerators can be quite steep, but it's worth it if you want something that will last a long time.
---
Types of fridges: freestanding vs. built-in fridge
There are various undercounter refrigerators; Undercounters with drawers, and those with or without freezers and built-in or freestanding refrigerators.
Under counters with drawers- these are mini-fridges that have sliding drawers. Some units have swinging doors with pull-out drawers.
Under counters with freezers- As the name suggests, these types of refrigeration units have a freezing compartment. However, they are pretty different from undercounter freezers.
Under counters without freezer type- have no freezer compartment. It is often used as an additional unit for the regular refrigerator.
Built-in undercounter refrigerators have front ventilation for dissipating heat and are designed to fit in tight spaces like kitchen cabinets. Built-in undercounter refrigerators are also more expensive than freestanding under-counter refrigerators.
Freestanding undercounter fridges- have rear or side ventilation and are designed to fit under a kitchen counter or stand flush with a kitchen counter.
Precautionary measures for installing a built-in fridge
If you do not have a refrigerator with a reversible door, you need to ensure that the door swings open without any hindrances. You can install the fridge directly beside a wall to enable it to swing at a maximum of 90 degrees. You should also leave at least 2″ behind the appliance for easy plugging into a power outlet.
Precautionary measures for installing a freestanding refrigerator
The ventilation of a free-standing refrigerator is often on the back and side of the fridge. Therefore, leaving about 2-5 inches of space all around the appliance is essential for proper ventilation. Avoid installing the refrigerator in moist or damp areas because the moisture can cause frost to form on the evaporator.
---
What is an undercounter refrigerator?
An undercounter refrigerator is a refrigeration unit that is installed under the countertop. It is an ideal solution for those who have limited space and want to keep their kitchen organized. How do you know if you should get one?
Here are some of the advantages of getting an undercounter refrigerator:
Space-saving
Undercounter refrigerators are much smaller than regular refrigerators, which means they will take up less space in your kitchen. This can help if you don't have a lot of room for storage.
Easy to clean
Since these appliances are installed under the countertop, it's easier to clean them than regular refrigerators because there aren't any corners where dirt and dust can accumulate. The same goes for spills; they won't stain or damage your cabinets as easily as they would if they were on top of them.
Less energy consumption
Energy Star-rated undercounter refrigerators use 50% less energy than their larger counterparts, which translates into lower utility bills every month. In fact, according to the U.S Environmental Protection Agency (EPA), "refrigerators account for approximately 20% of all household appliance energy use and about 5% of total home electricity consumption.
---
Top 3 best undercounter refrigerator drawers for 2023
Undercounter Refrigerator Drawers are designed to fit under the countertop and slide out for easy access. These slim, space-saving units help you keep beverages, dairy products, and other frequently used items within easy reach.
Undercounter Refrigerator Drawers come in a variety of sizes to fit your needs. They are available in four-door or five-door models and can be customized with optional features such as shelving, temperature control, water filtration, and lighting.
---
Top 3 best undercounter beverage fridge for 2023
Undercounter beverage fridges are a great way to store your beers and sodas at the perfect temperature. We carry a variety of brands and styles, including top-drawer brands like SRC and Beverage Air.
These units are designed for storing cans and bottles, as well as wine and spirits. They're also incredibly energy efficient, so you can save money on your utility bills.
Our selection includes undercounter beverage fridges with glass doors or stainless steel doors. Some of these models have door lock features and lighted interiors, which makes it easy to find what you're looking for when you need it most.
---
Top 3 best undercounter refrigerator with ice maker for 2023
Undercounter refrigerators with ice makers are a great way to add a little extra convenience to your kitchen. If you don't have enough room for an over-the-counter unit and need to keep the ice maker out of sight, an undercounter refrigerator is a perfect solution.
---
Top 3 best undercounter refrigerator with freezer for 2023
Undercounter refrigerators with freezers are ideal for homes that don't have room for a full-size refrigerator or want to save space in their kitchen. They come in several different styles and sizes from small to large so there is sure to be one that fits your needs perfectly.
Some even come with built-in ice makers so you don't have to buy an additional appliance or worry about having enough ice on hand! Undercounter refrigerators with freezers also offer features such as interior lighting, adjustable shelves, and more that make them perfect for any kitchen design.
---
You may also ask
Why are undercounter refrigerators so expensive?
This is one of the most commonly asked questions among undercounter refrigerators customers. This is perhaps because under-counter refrigerators are not considered a necessity but rather a luxury that one can do without.
One of the reasons for their exorbitant prices is their incredible durability and length of service offered. Moreover, they have all the features found in conventional refrigerators. But what impacts the price of undercounter fridges is the availability of two compressors. One compressor is used to cool the freezer section, while the other is used to cool the refrigerator section.
Undercounter refrigerators also have LED and LCD digital temperature control panels and displays that you may not find in conventional fridges. These features make the cost of the fridges worth it, especially if the brand has a lengthy warranty.
Is a built-in refrigerator better than a freestanding refrigerator?
This primarily depends on individual preferences. A built-in undercounter refrigerator will be a worthy choice if you need extra storage space for your beverages and food items. It can accommodate your drinks and food items that would have otherwise gone bad in the main refrigerator.
Getting a brand-new free-standing refrigerator would be less costly. However, it would take up far more space than you would like or is available.
Alternatively, you can use a built-in refrigerator as a free-standing unit, thereby seamlessly accommodating it under your kitchen countertop, conveniently giving you access to items that you may need as you cook.
A built-in refrigerator is also better than a free-standing fridge because it has gaskets that enable you to move them around and set them up quickly, both outdoors and indoors. As mentioned, your needs will dictate your preference for the built-in over the free-standing refrigerator and vice-versa. Analyzing the conveniences of both appliances will give you a good idea of what best fits you.
Why do Refrigerators Go Under the Counter?
Refrigerators are bulky appliances that consume a lot of floor space. Therefore, the under-counter fridge is designed to be placed under the counter to fit in the available kitchen space without making the kitchen overcrowded, especially if you have a minimal kitchen. Getting an in-built undercounter refrigerator allows you to use the area that would have overwise been occupied by a free-standing fridge for other appliances.
---
Undercounter Refrigerator Deals for June, 2023
-11%
Bestseller 1
Husky Undercounter Glass Door Mini Fridge, 131L Compact Beverage Fridge with 174 Can Capacity, 4.6 Cu.ft. Freestanding Drink Fridge with Glass Door, Compact refrigerator with Reversible Door
🍺Compact With A Large Capacity: This beverage cooler with glass door is the ideal size to keep your food, drinks, fruit, and vegetable cool while taking up minimal space in your kitchen, bar, dorm, office, or game room. You can easily fit 4.6 cu ft. / 131Liters / 174 Cans/ 116 Bottles in your glass mini fridge.
🍺Advanced Quiet Cooling System: Our glass door mini fridges have a low sound operation that allows you to place it in your bedroom or office and enjoy a quiet environment.
🍺Stylish With Reversible Door Design: Our sleek small beverage refrigerator is equipped with reversible doors which makes it an ideal design, whether you are right or left, handed allowing you to place it at any corner of your house or office.
🍺Premium Echo Friendly Design: We engineer our undercounter bar fridge with energy efficiency in mind. Our best-in-class insulation comes from using an optimal thickness of cabinet walls, cyclopentane foaming insulation, and low emissivity glass.
🍺Conveniant Design: Premium design, adjustable shelf, leveling legs, and adjustable temperature (32°F - 50°F), makes this beverage fridge with clear door even more practical and ideal for any environment.
-7%
Bestseller 2
ICEJUNGLE 24" Under Counter Refrigerator, indoor and Outdoor Double Drawer Fridge, Digital Display,for Home and Commercial Use, 5.12cu.ft
✔️[DIGITAL TOUCH LED DISPLAY °C /°F]: Adjustable temperature LED display screen range from 0℃-20℃/32℉-72℉, Ensure that the food and beverages in the refrigerator do not deteriorate.
✔️【PRECISE TEMPERATURE CONTROL】Our refrigerator is equipped with electronic temperature controller, which can accurately control the temperature of each degree (precision temp. Control), ensuring the quality of your beverages.
✔️[STAINLESS STEEL SLIDE-OUT DOUBLE DRAWER WITH DIVIDER]: The Fridge drawer equipped with Double Drawer and fits more than the traditional side by side refrigerator It has a divider in the main Fridge section and also has a sliding Fridge drawer to separate foods to help you better plan the internal space of the refrigerator
✔️[SMALL REFRIGERATOR, LARGE CAPACITY]: 23.4" x 23.03" x 32.28"(w x d x h) can store 142 standard 12 oz. cans. Super ideal for beer soda at home, office, dormitory& bar
✔️[AUTOMATIC LIGHT ON ANN WARRANTY SERVICE]: Automatic door closing function, Turn on the light when you open the door, Open door alarm after 60s, High and low temperature alarm.We provide a one-year warranty service. Please feel free to contact us if you have any problem
All other trademarks are the property of their respective owners: Kalamera, Avallon, Edgestar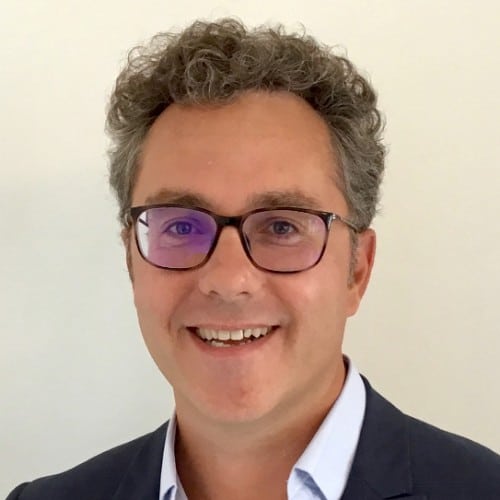 E Pery is the founder of refrigerator.deals and a webmaster. He runs his own websites and loves… refrigerators! Convinced that buying and maintaining a refrigerator is not easy, he decided to create refrigerator.deals, in order to help people make the right choices.
Refrigerator.deals is a participant in the Amazon Services LLC Associates Program, an affiliate advertising program designed to provide a means for sites to earn advertising fees by advertising and linking to Amazon.com. Last update on 2023-06-02 / Affiliate links / Images from Amazon Product Advertising API