Last Updated on December 14, 2022 by E.Pery
Do you have an old refrigerator you want to dispose of or replace with a more efficient model? If you do, don't just take it out with the rest of your trash. Not many cities offer refrigerator recycling as part of their garbage collection and disposal services.
If you have an old refrigerator model, the chances are that it may have a refrigerant that contains chlorofluorocarbon or hydrofluorocarbon.
These substances are harmful to the environment; hence, disposing of this bulky appliance in already crowded landfills could cause environmental pollution and limit the space that could be used to keep non-recyclable materials.
There are several ways that you could safely and efficiently dispose of your refrigerator. This article explores 7 disposal options to get rid of a refrigerator. Read on to find out which method best suits you.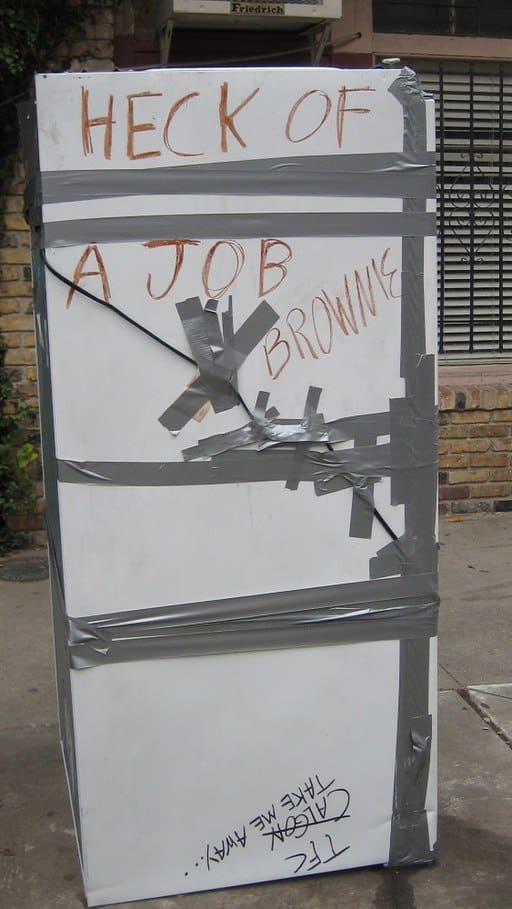 7 disposal options to get rid of an old fridge responsibly
Trade in your fridge with a retailer or manufacturer
Make an appointment with the waste management service
Drop it off at a recycling center
Donate your gently used refrigerator to charity
Contact your electric company for an appliance buy-back program
Resell The refrigerator
Sell it to a scrapyard
The safest way to get rid of your fridge is to call in a professional to dispose of it properly. Refrigerators contain recyclable parts and others that are an environmental hazard. For example, the metal, glass, and plastic parts of the fridge are valuable elements that can be recycled.
On the other hand, the evaporator coil, the compressor, and the insulation have substances that contain greenhouse gasses that deplete the ozone layer. For this reason, these parts of the refrigerator should be reclaimed and disposed of by a professional.
1. Trade in Your Fridge with a Retailer or Manufacturer
Before you purchase a new fridge, find out from the appliance retailer whether they offer on-to-one trade-in programs. If they do, arrange with them to haul the old fridge away as they bring in the new one.
Many appliance dealers offer this service, especially when they are making home deliveries. However, you might be required to pay an extra fee of about $10-50.
Some appliance dealers require that you request and purchase a one-to-one pickup service with new appliances and old units still in good working condition. So don't forget to make inquiries beforehand.
2. Make an Appointment with Waste Management Service
Refrigerators are bulky appliances that may not be included in the regular waste collection service in your area. So before you leave your old fridge on the curb together with the rest of your trash, call the waste management service and find out whether they make arrangements for bulky items pickup.
If they do, find out how often they offer bulk pickup and schedule a time for them to pick up your old or broken fridge. They may require you to make specific preparations before the pickup, such as dismantling the refrigerator door, the locks, and the hinges.
You might also need to hire a professional to remove the compressor and drain the refrigerant before disposal. If they have such requirements, note down the instructions and carefully follow them during your appointment.
Once you are done, move the fridge to the curb around the scheduled time for the pickup. Some areas offer this service for free. But you might be asked to pay a nominal fee depending on where you stay.
It's also good to bear in mind that the waste management service might throw your fridge into a landfill. So you could consider disposing of the refrigerator through recycling programs.
Recommended link: Refrigerator Recycling (Waste and Recycling) Services
3. Drop it off at a Recycling Center
Most states do not allow the dumping of big appliances such as refrigerators into landfills. You can decide to recycle your old fridge by dropping it off at a recycling center. The refrigerator's disposal through a recycling program will ensure that all the fridge parts are carefully removed and safely thrown away or recycled.
When searching for a recycling center, look for one that participates in the Responsible Appliance Disposal (RAD) program. Most RAD recycling centers pick up old refrigerators directly from homes but prepare to take them there yourself if they do not offer this service.
Recommended link: Find a Fridge or Freezer Recycling Program | ENERGY STAR
4. Donate your Gently used Refrigerator to a Charity
If your fridge is still in good working condition, you don't need to have it tossed into a landfill. You could donate it to local charities that take used refrigerators.
While some charities offer free refrigerator pick-up from your home, others don't, so you need to figure out how to haul the fridge to the donation drop-off center. Before you drop it off, it's good to let the charity know the type of fridge you want to donate and how big it is.
Refrigerators depreciate with time, so avoid donating a fridge in poor condition even if it is working because it won't give the people much service. Moreover, it will not be energy efficient and may end up requiring numerous costly repairs.
If you had stored the appliance, test it to find out whether it is still working. Performing a simple test will save the donation center from taking the broken fridge to the landfill.
Recommended link: How to Donate a Refrigerator to Charity | Pocketsense
5. Contract Your Electric Company for an Appliance Buy-back Program
You could also contact the electric company near you and determine whether they participate in an appliance buy-back program. Many energy-efficient organizations support old appliance recycling programs.
If the one close to you does, schedule an appointment with them and move the old refrigerator outside to make the pickup easier unless they offer to pick it up right from your home.
Recommended reading: How To Move A Refrigerator Safely?
Some electric companies only pick up functioning refrigerators, so you need to make sure that yours is working before they pick it up. Expect a rebate after the pickup, although this may come in the form of credit off your electric bill.
Recommended link: Appliance Recycling Rebates | Consumers Energy
6. Resell The Refrigerator
If the fridge is still in good shape, you could fetch a sizeable amount of cash by selling it to someone else. You can do this by posting pictures of the fridge on social media marketplaces like Facebook or Craigslist.
Be sure to take as many clear pictures as possible and a detailed description of the fridge. Once you get a buyer, schedule a time when they can pick it up. You could also deliver it to the buyer depending on your agreement.
7. Sell it to a Scrapyard
Many scrap metal recyclers participate in the RAD program. So, if there is a scrap metal recycler close to you, you could contact them and find out whether they recover usable metal from old refrigerators. If they do, you might have to load the appliance on a van or truck and transport it to the scrapyard.
Here are a few frequently asked questions about old refrigerator disposal near me that could further assist you in the process:
---
6 steps to get my old fridge ready for disposal
Once you pick out the most suitable method of fridge disposal for you, get ready to dispose of it by following the few steps below:
Defrost the evaporator by unplugging the fridge a few hours before the pickup
> Recommended reading: How To Defrost A Refrigerator? [6 Simple Methods]
Clear all foodstuffs from the refrigerator and keep the most perishable food in a cooler to keep it fresh before the new unit arrives
Tape down loose items like fridge compartments and shelves
Have a professional help you dismantle the refrigerator if there is a need for it.
Map the path through which the refrigerator will pass through and remove any obstacles on the marked-out way.
Have someone help you to lift the fridge to the curb.
---
How to dispose of the refrigerator near me?
You can dispose of your refrigerator on your own or hire a company to do it for you.
Disposing of a refrigerator on your own is usually the cheapest option. You will need to find an appropriate place to take your refrigerator and then transport it there. The most common places to take old refrigerators include:
Landfills
Look for landfills that accept appliances; they are often called "transfer stations." This is the cheapest option, but it's also the least convenient because you have to transport the fridge yourself. Some landfills will pick up old appliances from your home for a small fee, which can be worthwhile if you don't want to deal with transporting them yourself.
Recommended reading: Find a Fridge or Freezer Recycling Program
E-waste recycling centers
Many communities have e-waste recycling centers where you can drop off old electronics for free or for a small fee (typically around $20).
These are usually operated by private companies that pay municipalities or counties for the privilege of being allowed to operate in an area — so if there aren't any in your area, it may be worth calling around and asking if any are coming soon. If you don't mind waiting a few weeks, some companies will even come to pick up your old appliance from your home (usually for around $10).
---
Is it illegal to throw away a refrigerator?
It's illegal to dump a refrigerator that still works. It's also illegal to throw away a refrigerator without recycling it.
In many cities, residents are required to recycle their old refrigerators and freezers. In some cases, if you don't recycle your old refrigerator, you might be fined or face other penalties.
More than three-quarters of the world's energy is used for cooling or heating buildings, according to the U.S. Department of Energy (DOE). Because refrigerators and freezers use so much energy — about 1 percent of the total electricity consumed in the United States — it makes sense to make sure they're recycled properly when they reach the end of their lives.
The DOE estimates that recycling one ton of refrigerators and freezers prevents about 300 pounds of CFCs from being released into the atmosphere — a significant amount because CFCs are known to deplete ozone in Earth's upper atmosphere by reacting with sunlight.
In the state of California, for example, it is illegal to throw away an appliance (refrigerator, washer, dryer) that still works and can be repaired. The state has banned the disposal of these appliances because they contain harmful chemicals such as mercury and chlorine that can leach into groundwater when disposed of improperly.
In addition to being illegal in California, there are other states that have similar policies on disposing of working appliances:
New York State requires residents to recycle their old refrigerators by donating them to charity or bringing them to a recycling center for proper disposal.
The District of Columbia passed legislation prohibiting residents from throwing away working appliances like refrigerators. Residents must donate their old appliances or pay a fee of $50 per item before they can be disposed of properly by licensed contractors.
Oregon State also bans people from disposing of working refrigerators in landfills or placing them curbside for pickup by contractors who may dispose of them illegally or unsafely.
What you can do
If you find yourself in the position where you need to get rid of an old refrigerator, there are two ways that you can do it:
1) Find a local recycling center that accepts old refrigerators and take it there.
2) Call your city's recycling department and ask if they offer any services for disposing of an old refrigerator.
If these options aren't available in your area, there are still several things that can be done with an old refrigerator before you have to resort to throwing it away.
---
Refrigerator disposal cost
Refrigerators are one of the largest appliances in your home, and they're also one of the hardest items to dispose of. The good news is that you can recycle your refrigerator.
You can recycle your refrigerator through a local recycling center or with a company like Appliance Recycling Centers of America (ARC).
If you decide to recycle your refrigerator at an ARC facility, expect to pay about $50 for disposal. If you hire someone else to haul off your old appliance, expect to pay anywhere from $25 to $100 depending on the size and weight of your fridge.
If you want to recycle your own unit, check with local recycling centers or take it to a donation center.
Recommended link: Find a Fridge or Freezer Recycling Program | ENERGY STAR
---
Pick up the old refrigerator for cash
Recycle refrigerator for cash is a service offered by many companies that will come to your home and remove your old refrigerator, regardless of where it was purchased. You can also drop off an old refrigerator at a local landfill or recycling center.
The cost to pick up an old refrigerator varies by company and location. Some companies charge per cubic foot while others charge by the pound. The weight of your refrigerator may be difficult to determine but you can measure the height, width, and depth of the unit before calling for a quote.
---
Do I take old refrigerators apart from inside my house?
There are liability requirements that should be followed when you are taking your refrigerator apart. Since you may not be familiar with all of them, it's best to call in a professional to dismantle the appliance on the pickup day before moving it outside.
However, you can disconnect the appliance from power sources and keep it away from other substances such as fuel, compressed gas, water, oil, or charged site suppression before the professional comes.
The professional will then move the old unit outside and take it apart before it is moved.
---
Why should I care about responsible appliance disposal?
The older a refrigerator gets, the less efficient it becomes. Replacing an old fridge could save you up to $50 a year in electricity costs.
Moreover, a broken freezer or an old fridge that you don't use only takes up space in your basement or garage. Getting rid of fridges and freezers through the RAD program also protects the environment.
Recommended reading: Best Refrigerator Bottom Freezer [Top 5 Reviews]
Best Top Freezer Refrigerator [Top 5 Reviews]
---
How much does it cost to dispose of my old appliance?
The cost of having your fridge picked up or disposed of varies. In some areas, old refrigerator collection is done for free through the municipal public works department.
In other areas, this service is charged at a small fee, especially when the pickup or disposal of large appliances is not part of the local waste management service.
The cost of appliance pickup and disposal services also varies with the retailers. The service fee for this ranges between $10 to $50.
However, retailers with a trade-in policy could provide you with free pickup and disposal services for your fridge. Some even pay old fridge owners after pickup.
---
How do I know when I need to throw away my fridge?
The most obvious sign that you need to get rid of your refrigerator is warm food. However, before you shove it out as broken or call a maintenance specialist check whether;
The temperature in the fridge is well set.
The compressor at the back of your fridge is making nasty noises. This could be a sign that the compressor is getting old.
The motor is running, but the temperature in the fridge is still high. If this is so, the compressor could be broken.
There is a significant build-up of ice in the freezer. This could be a sign of broken coils.
These are signs that your fridge is growing old and needs to be replaced. Please don't wait till it gives out to replace it. Get a new refrigerator as soon as possible for maximum operating capacity and efficiency.
And when you do, remember to dispose of the old fridge in a way that preserves the environment.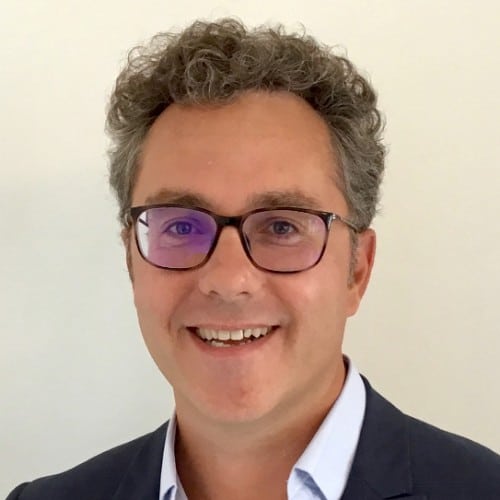 E Pery is the founder of refrigerator.deals and a webmaster. He runs his own websites and loves… refrigerators! Convinced that buying and maintaining a refrigerator is not easy, he decided to create refrigerator.deals, in order to help people make the right choices.