Last Updated on September 23, 2022 by E.Pery
Suppose you love accompanying a juicy pickle with a plate of charcuterie or deli sandwiches. In that case, you don't always have to survive an overly pungent taste every time you have a pickle. You can enjoy a classic meal by fixing a homemade refrigerator pickle yourself.
Fixing a homemade refrigerated pickle allows you to take control of the ingredients. It gives you the freedom to control the amount of sodium in the pickle and the certainty that your brine has no food coloring or other additives.
You can also choose what to flavor the refrigerated pickles with, an aromatic dill, mustard seeds, peppercorns, or garlic; whichever flavor rhymes well with your favorite dip or salad.
Perhaps you are among the people who crossed out pickles from their list of favorite foods as a kid. Tasting those sour and soggy store pickles made you wonder out loud, 'Why would something like this ever exist' as you walked to the bathroom to spit it out.
However, you need to try out a bold, zesty homemade refrigerator pickle before you shift this delicacy to your "never ever" list of foods.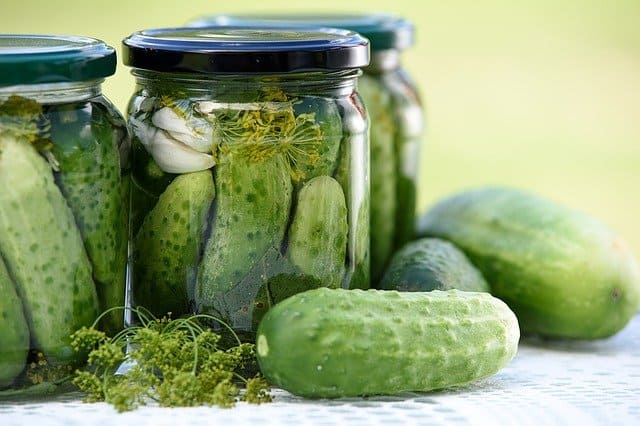 What are pickles?
A pickle is a relish that consists of either fruits or vegetables that have been preserved in brine or vinegar solution, which allows them to ferment over time.
This method of pickling increases the life-shelf of the cucumber. Canned pickles are held to be used several years or months to come.
In this article, however, we shall discuss how to make homemade refrigerator pickles that you could eat in less than 48 hours.
Homemade Refrigerator Pickle Ingredients
When it comes to fixing refrigerator pickles, you have an array of ingredients to choose from. Here are some of the most commonly used ingredients. You can choose to use all ingredients or select a few to give the flavor that most appeals to you.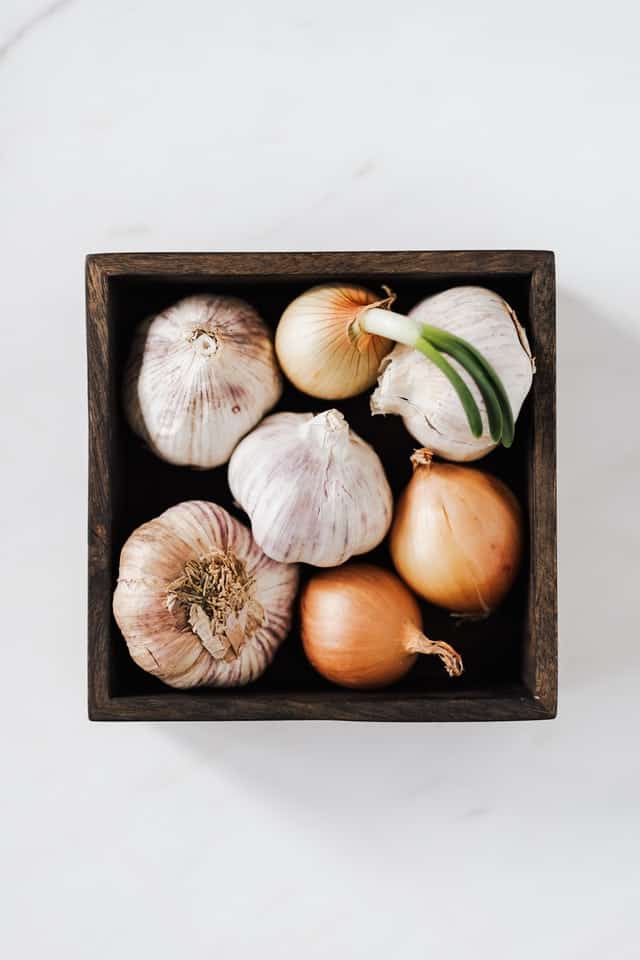 Vidalia Onion – This is a type of sweet onion that is grown in Vidalia, Georgia. It has a unique shape and a mild flavor with lots of sugar. This kind of onion is primarily grown in Georgia because the soil there has little Sulphur content. It does not have that intense acidic flavor of other types of onions, making it a perfect choice for making pickles. However, if the Vidalia onions are not available, go with any sweet onion you can find.
Fresh Dill – Pickles get the distinct dill flavor from the immature seeds and the fresh leaves of this small herb. Its foliage and flower head also infuse additional dill flavor into the pickles. If you do not have a sprig of fresh dill, you can substitute it with dried dill weed in the ratio of one 3-5 inches sprig of fresh dill to 1/4 teaspoon of dried dill weed.
Distilled White Vinegar– This type of vinegar can be used in almost any kind of pickled vegetable. It has a high acidity level that gives it a mellow flavor. It keeps the color of your produce clear for as long as it is edible.
Apple Cider Vinegar – This type of vinegar is made from fermented apples and is the best alternative to distilled white vinegar. Although it may darken most fruits and vegetables, it has a mellow, fruity flavor that infuses the pickles. You can use unpasteurized or unfiltered cider brands such as Heinz, and Bragg's if it retains the mother of vinegar at 5% or higher. Although this cider vinegar may add more taste to the pickles, they are more expensive than other forms of vinegar.
Water – You might need water to fill the jar to the top of the brine will not be enough to cover the pickles.
Garlic – You can't go wrong with garlic! When you think of the taste of raw garlic, you may mistake pickled garlic for an acquired taste. However, you might find yourself unable to stop yourself from reaching for the jar. Unlike raw garlic, whose taste is sharp and spicy, garlic pickled in vinegar becomes mellow and slightly sweet. Additionally, the fermentation process changes the taste of garlic and enhances its bioactivity, and hence has more nutrients and minerals that enable the body to function correctly.
Pickling Salt –Pickling salt is also known as canning salt, and it is pure sodium chloride with no additives or anti-caking agents. The best type of salt to use on pickles is because the additives added to table salt add a darkened or cloudy appearance to the pickle brine. However, if you can't find pickling salt, use kosher salt instead because it has no additives.
Granulated Sugar – This acts as a sweetener that helps make the pickles more palatable by taking away the tartness and sourness of the acidity. Granulated sugar also acts as a thickener that builds the water to make it heavier. It makes the pickles palatable.
Whole Black Peppercorns – It is advisable to use entire black peppercorns instead of ground pepper because the former has a milder taste.
Whole Yellow Mustard Seeds – Although it seems somewhat strange to pickle mustard seeds when they plump in a pickle, they provide a unique crunch, texture, heat, and sweetness. That sweet honey and peppery taste are a must-have when you are making refrigerator pickles.
Red Pepper Flakes – Red pepper flakes are used to adjust the spice level of the pickles to your liking.
You are also going to need pickling cucumbers.
Pickling Cucumbers – Picking out cucumbers to use is an essential part of the refrigerator pickles recipe. When selecting them, go for Kirby cucumbers, the short, plump squats with bumpy skin rather than any other kind of cucumber because these will give you that delicious crispiness that you crave on summer afternoons.
How to make refrigerator pickles
Ingredients
Kirby cucumbers
coriander and mustard seeds,
red pepper flakes,
garlic
Fresh dill sprigs.
Salt
Sugar
distilled white vinegar
Method
Step 1: Make the brine
The first step when making homemade refrigerator pickles is to make the brine. Start by combining salt, vinegar, and sugar in a saucepan. Heat the mixture while stirring until the sugar and salt are completely dissolved. Get cold water and whisk in the mix before chilling it in the freezer.
To avoid giving your pickles a metallic taste, use a stainless steel pot and utensils made of ceramic, glass, or Teflon. Prepping the pickles in utensils made of reactive materials such as copper, aluminum, and cast iron will react with this high-acid food. In the end, it might feel like you are biting into slices of metal.
Step 2: Stuff the cucumbers in a jar
Stuff the cucumbers into two 2-pint jars and add mustard seeds, coriander, garlic, fresh dill sprigs, and red pepper flakes. Make sure that both pots are proportional.
Begin by placing the garlic cloves into the jar. Put the cucumbers vertically into the jars, and then add the remaining herbs and spices. As you do, make sure that the cucumbers are tightly held to prevent them from floating out of the brine.
Step 3: Add the chilled brine
Once you have stuffed the jars, pour in the chilled brine to the brim of the jars and cover them with tight lids before placing them in a refrigerator. Allow them to sit there for about 24 hours and then serve them whenever you want to eat them; they can stay fresh in the fridge for up to a month.
When the pickles end faster than you imagined they would, you do not need to start preparing from scratch. Use the brine that you made to make one or two more batches of pickles.
Best homemade refrigerator pickles recipes
Gluten-free refrigerator pickles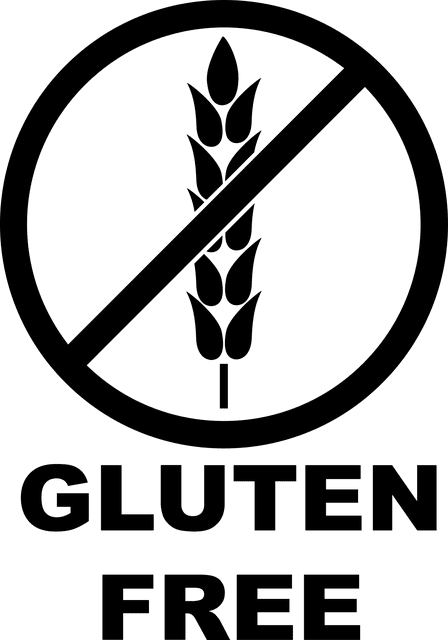 For this recipe, you will need
1-3/4 to 2 pounds Kirby cucumbers (about 6), cut into halves or spears
1-1/4 cups distilled white vinegar (5% acidity)
3 tablespoons kosher salt
2 tablespoons sugar
2 cups cold water
2 tablespoons coriander seeds
6 large garlic cloves, peeled and halved
16 dill sprigs
1/4 teaspoon red pepper flakes
Once you gather the cooking materials, make the refrigerator homemade pickles through the following easy steps.
Method
Step 1:Mix the vinegar, salt, and sugar in a small stainless steel saucepan and heat it.
Step 2: Whisk the mixture until you dissolve the mixture.
Step 3: Transfer the mixture to a bowl and add the cold water. Whisk it thoroughly before putting it in the refrigerator
Step 4: Put the cucumbers in a container and add the rest of the ingredients.
Step 5: Add the brine to the container and cover the rest of the ingredients.
Step 6: Leave the mixture in the refrigerator for 24 hours and then serve.
This recipe is suitable for someone with gluten allergies because all the ingredients are gluten-free.
Cucumber refrigerator pickles recipe
For this recipe, you will need;
1 cup distilled white vinegar
6 cups sliced cucumbers
2 cups white sugar
1 tablespoon salt
1 cup sliced green bell peppers
1 cup sliced onions
Method
Step 1: Put vinegar, salt, and sugar to boil over medium heat in a stainless steel saucepan. This could take about 10 minutes.
Step 2: Place the green bell peppers, onions, and cucumbers in a bowl.
Step 3: Pour the vinegar mixture into the bowl over the vegetables.
Step 4: Transfer the mixture to a clean container and store it in the fridge for not less than 24 hours, then serve.
Pepper refrigerator pickles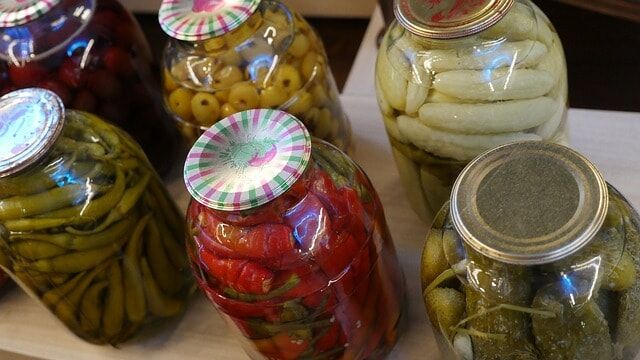 If you want a perfect pickle Sunday dinner for your guests, then pepper refrigerator pickles would be a great pick! These pickles are a cocktail of sweetness, spiciness, and tartness all at once and take the shortest time to make.
For this recipe, you need;
½ teaspoon crushed red pepper flakes
1 pound mini sweet peppers sliced thinly
1 ½ cup white wine vinegar
2 large shallots sliced into rings
½ cup water
3 teaspoons kosher salt
5 tablespoons sugar or equivalent sugar substitute
Method
Step1: Slice the shallots and sweet peppers into even rings. Use your fingers to separate the shallots slices into rings.
Step 2: Get two clean pint jars. They need not be glass jars. Empty mayonnaise jars will do just fine. Clean them thoroughly and set them aside.
Step 3: Mix the shallot and pepper rings and then put them in the two jars evenly. While you do this, press the vegetables down into the jar because they will shrink more than you might have desired when you pour the pickling solution.
Step 4: Pour the remaining ingredients into a stainless saucepan and bring the mixture to a boil. Ensure that the sure is wholly dissolved before the turn off the heat.
Step 5: Use a canning funnel to pour the hot mixture over the peppers and the shallots.
Step 6: Close the jars tightly and allow them to stand at room temperature for approximately 24 hours. Once they have cooled, transfer them to the refrigerator at room temperature and keep them for an additional 24 hours before using them.
You can keep this pickle in the refrigerator for up to one month after making it.
Note: Although you may hear a pop at the seal as the jars cool, they can have not been wholly sealed because the jars you may find are not processed in a canner to create a seal. So you will have to keep the fresh pickle in the refrigerator and not on a pantry shelf. Otherwise, the pickles may not be safe to consume.
Zesty Cucumber refrigerator pickles recipe
Do you need the following ingredients for this recipe:
6-7 pickling cucumbers
1 cup white vinegar (or apple cider)
2 cups water
pinch celery seeds
1 Tbsp kosher salt
fresh dill
1/2-1 tsp granulated sugar
4-6 cloves of garlic peeled and smashed/roughly chopped
10 whole black peppercorns
1/2 tsp whole yellow mustard seeds
1/4 tsp red pepper flakes
Method
Step 1: Slice the cucumbers about 1/4 inch thick. Get a plastic jar and a lid and set it aside. You can use plastic cans because these pickles are not canned. However, the plastic container should be airtight.
Step 2: Make the brine by heating water, salt, sugar, and vinegar together in a stainless steel saucepan over medium-high heat until the solids dissolve.
Step 3: Let it cool to room temperature.
Step 4: Add cucumbers and garlic, dill, black peppercorns, mustard seed, red pepper flakes, and celery seed into a plastic jar while the brine is cooling.
Step 5: Pour the brine into the plastic jar and ensure all ingredients are covered. However, you should leave about 1/2 inch at the top.
Step 6: Close the airtight container and leave it for 5 days in the refrigerator. They can also stay fresh in the fridge for up to 4 weeks. However, eating them as soon as possible is best because pickled cucumbers lose crispiness towards the end of their shelf life.
Kosher dills refrigerator pickles
Like most people, you might be putting up tasty veggies and luscious fruits to enjoy throughout the year during this canning season. So perhaps it would be great to try out the crispy and delicious Kosher dills refrigerator pickles.
Kosher dill pickles are one of the favorite pickle recipes for most families. You do not need to get canning equipment and get lost in the nitty-gritty of canning to enjoy this delicacy.
A refrigerator version of this pickle recipe could be more of what you are looking for. Not only is it full of stimulating flavor but a great crunch that you may not get from canned pickles.
For this recipe, you will need:
6 heads of fresh dill or 4 ½ tsp. dried dill seed
About 18 pickling cucumbers
1 ½ teaspoon yellow mustard seed
2 cups cider vinegar
6 cups water
⅓ cup dried minced onion
6 garlic cloves finely minced
⅓ cup canning salt
When looking for cucumbers, search for the ones known as Kirby or salad cucumbers. The results will not be as great if you work with the regular waxed cucumbers.
If you have fresh dill from the grocery store or your garden, use the heads in the recipe by packing it in the jar together with the cucumbers. However, if you have dried dill seeds, add them in with the vinegar solution.
Method
Step 1: Take a large stainless steel saucepan and put water, onions, vinegar, mustard, dill seed, and canning salt and heat moderate-high heat to boil. Make sure that the salt has completely dissolved before turning off the heat. Allow the mixture to cool off at room temperature.
Step 2: Prepare six jars for keeping the pickles. They should be wide-mouthed quart canning jars and have fitting lids that seal off completely. Wash the jars thoroughly in hot soapy water, and rinse and dry them well. Keep the covers in simmering water.
Once the cans are cleaned, sterilize them by placing them in a large pot with enough water to cover them, and then heat the water to a boil. Use a canning jar lifter to remove the jars from water and place them upside down on a kitchen cloth to dry and cool.
Step 3: Prepare the cucumbers.
Thoroughly wash the cucumbers in cool water. Remove any dirt that may be clinging to the skin, and then give it an excellent rinse. Cut off the bottom of each side and then cut the cucumbers lengthwise into quarters.
Step 4: Add one head of fresh dill to each sterilized jar, followed by the cucumber quarters. Check whether the mixture has cooled off. If it has, pour it over the dill and cucumbers in the jars.
Step 5: Using a damp paper towel, wipe any grime or spill from the rims of the jars, then add a canning lid and ring to each of them. Seal the jar by turning the ring until you get resistance, but don't tighten the top too much.
Step 6: Store the pickles
Let the jars sit at room temperature for three days while shaking them occasionally to distribute the seasoning evenly. This standing time will allow the pickles to ferment slightly. Transfer the jars to the refrigerator and store them unopened for six months.
Tips for making Kosher dills refrigerator pickles
Only use pickling cucumbers called Kirby for this recipe. A typical waxed cucumber also found in the produce section may not yield the expected results.
You don't have to use the exact ingredients used in this recipe. This is not a canning pickle that is being prepared for pantry storage. Hence you can alter the recipe a little to suit your preferences.
For example, if you like the pickle hot, you could add more dried pepper to each jar or reduce the salt. You could also add more spices like dried coriander or dried red pepper flakes.
Use pickling salt to prevent the dark hue found in the brine. If you do not have distilled white vinegar, you could use apple cider vinegar as a substitute, although you should expect a subtle difference in flavor.
Note: It is advisable to open the windows when making the brine, especially before boiling the solution. It gives off a strong onion odor which hangs around the air for several days.
Tip for making homemade refrigerator pickles
Use fresh cucumbers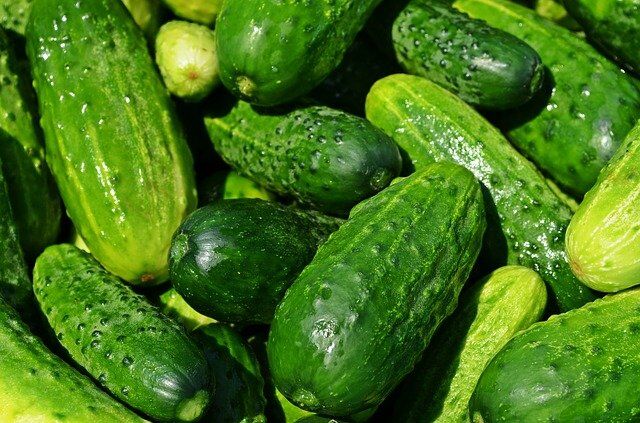 If you want to make the best pickles, you need to use the freshest ingredients, especially cucumbers. When purchasing cucumbers, select the firm ones with few blemishes and ones that are consistently sized. Picking cucumbers with similar sizes ensures that your pickles have a uniform size.
Use Vidalia onions
Onions are often used to give the food an intense acidic flavor, making the pickles have a strong sour taste. Using the Vidalia onion rather than the other types of onions will give your pickles a mildly sweet flavor, making them even more of a delicacy.
Choose pickling salt over table salt.
Pickling salt is pure sodium chloride which has no additives or anti-caking agents. These additives, often added to table salt, make the pickle brine have an unpleasant darkened or cloudy appearance. If you can't find pickling salt, kosher salt is a good alternative.
Make your pickle sweet.
Pickles are more salty rather than sweet foods. However, if you like your sweets, you can sweeten them by increasing the amount of sugar. You could try using 1/2 a cup, then add little by little until you achieve your preferred taste.
Make your pickles spicy.
If you like your pickles to have some extra heat, you could try adding a little more red pepper flakes, Thai chilies, and jalapenos.
Leave it in the refrigerator for 2 days.
Although you need only hold your horses for 24 hours before you could taste your freshly made pickles, it's advisable to wait two days before you eat the pickles if you want them to have a fantastic taste and chill.
Pickle prep and storage
To get the best results, refrigerate your pickles for 3 to 4 days before use. However, the ideal time frame for keeping the pickles is 3-4 months in an airtight container in the fridge. The pickles will still have a crunchy and crisp texture within that time frame. Afterward, they soften and lose their delicious crunch.
The challenges of refrigerating pickles
Whether you decide to have homemade refrigerator pickles or canned pickles, they are all going to be refrigerated at some point. While refrigerator pickles need to be stored in the fridge as soon as they are made, canned pickles need to be refrigerated once they are opened.
Storing pickles in the fridge slows down the fermentation process, thereby keeping microbes that cause decay at bay while at the same time preserving the flavor and crispiness of the pickles. Hence, if you love making pickles and do not have a spare fridge in your basement, then you may end up with food poisoning or a colossal waste of food.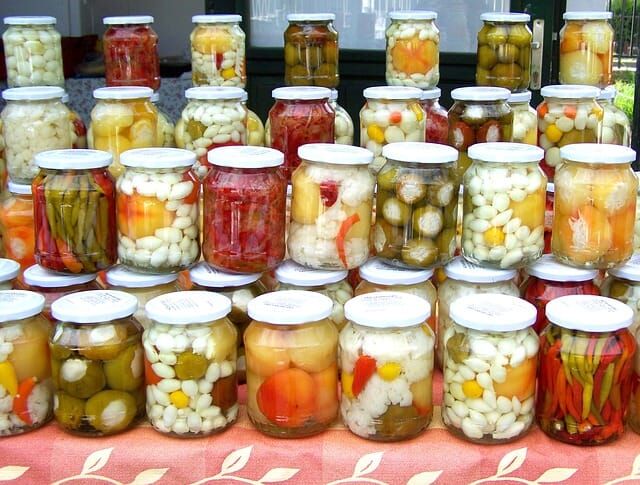 If you have an apartment refrigerator, it may not have enough real estate to host a dozen refrigerator pickle jars. So you can either reduce the number of pickle cans you make or create space by ditching some of your regular fridge foods like bulky prepackaged foods, sauces, commercial salad dressing, and other underused hogs.
Additionally, pickles are very weighty. Fermented vegetables in brine are heavy; If you store several jars of pickles every week, you might have realized that the plastic-edged glass shelves on which the pickles stand are bowing under pressure.
One way of solving this problem is by screwing a piece of 3/4 inch angle aluminum riveted to the front of each shelf to stiffen them.
FAQs
Do You Have To Boil Jars For Refrigerator Pickles?
Not necessarily, because homemade refrigerated pickles are not canned. If you plan on canning your pickles and living them on a pantry shelf, you need to sterilize the jar by heating it to a temperature high enough to kill all microbes that cause food spoilage. After heating and filling the jar, an airtight vacuum seal forms when the jar cools off, thereby shutting microbes out. Refrigerated pickles, on the other hand, are stored.
Pickles should not be kept on your pantry shelf unless they are canned. This involves heating jars of pickles to temperatures high enough to kill off spoilage microbes—a method known as heat processing. An airtight vacuum seal forms when the jars cool, shutting microbes out. Once canned, most pickles keep for up to one year.
What Is The Difference Between Dill Pickles And Kosher Dill Pickles?
Both types of pickling styles use dill weed and seed for flavoring. However, while kosher dill pickles use garlic and salty brine to give them their classic flavor, dill pickles do not. For this reason, they are not considered kosher dill pickles.
Are Pickles Good For You?
Pickles are a healthy type of food. They are full of good bacteria called probiotics which enhance gut health. They have very few calories, carbs, and fat. They are also considered dairy-free and gluten-free, making them an ideal meal for vegetarians and vegans. Moreover, pickle juice contains plenty of sodium chloride, making them a good source of electrolytes. They are also high in an antioxidant known as beta-carotene, which is turned into vitamin A in the body. Homemade refrigerator pickles are better than store-bought pickle brands because the latter has a lot of added sugar that adds carbs and calories. Moreover, you can control the amount of salt you want in your pickles. These factors make homemade refrigerator pickles a healthier choice over store-bought pickles.
Can I Use Dried Dill For Pickles?
Yes, you can. The dried dill seeds make quite a tasty homemade dill pickle too! However, using dried dill seed may not give you the same fresh flavor as fresh sprigs of dill will. If you can't find fresh sprigs of dill, you can substitute with 1 to 2 teaspoons of dried dill seeds.
Can I Quick Pickle Whole Cucumbers?
Yes, you can. However, keep in mind that it will take longer to ferment compared to cucumbers that are diced to expose a larger surface area to the brine. Whereas sliced cucumbers take 24 hours to get ready, you might be forced to sit the 3-4 days before the solution soaks in the whole cucumbers.
Why Do You Soak Cucumbers In Ice Water Before Pickling?
Previously cucumbers were soaked in lime or alum before pickling. Today, however, this process is not recommended, and neither is it necessary, especially if you are using fresh cucumbers. Soaking them in lime made the cucumbers run out of crisp. Hence, soaking the cucumbers in ice-cold water for 4-5 hours before pickling is a safe and efficient alternative.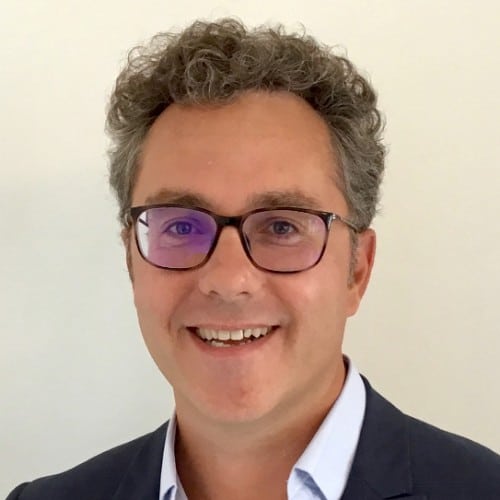 E Pery is the founder of refrigerator.deals and a webmaster. He runs his own websites and loves… refrigerators! Convinced that buying and maintaining a refrigerator is not easy, he decided to create refrigerator.deals, in order to help people make the right choices.